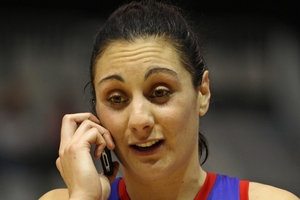 A year off and a new baby has only reaffirmed the feeling that the Silver Ferns is exactly where Joline Henry belongs.
The Central Pulse wing defence was yesterday invited back into the environment she so treasures, being included in Waimarama Taumaunu's 12-strong squad for next month's Constellation Cup series against Australia.
Henry played the last of her 68 tests in 2011, before sitting out the 2012 season through maternity leave, and her return could have hardly come at a better time.
Anna Harrison and Kayla Cullen - who both did a decent job of filling Henry's bib during her absence - are missing from the squad, with the former having a baby of her own and the latter sidelined through injury.
That pair left something of a hole in the wing defence position and, despite Henry appearing an easy choice to slot in, she had no such expectations during the recently completed national trials.
"You never, ever take that kind of thing for granted, especially when you go away and have a baby and wreck your body in the process," she said. "But I had belief in my ability to put my best foot forward and knew that, if I did that, I would get an opportunity to get some time on court."
Taumaunu granted that opportunity, safe in the knowledge that the combative mid-courter was well on her way to recovering her form of old and again becoming an integral member of the Ferns lineup.
"I think, given that we're now without the two people that we ran last year at goal defence, it's very timely," Taumaunu said of Henry's return. "She has a wealth of experience and she's pretty hard-headed when she's on the court, so those two things will stand her in good stead."
Henry said: "I still have the utmost ability to do the job, if needed, when I line up against Australia. I know that I can do the job that's required of me and help my team out."
The Northern Mystics have appointed Helene Wilson as assistant coach to Debbie Fuller for the 2014 season. Wilson has an extensive netball background, which includes coaching roles for the NZ secondary schools team and high performance management for Netball North Harbour.
- APNZ