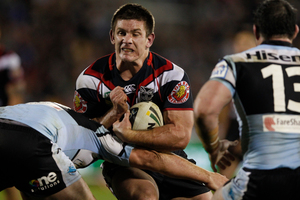 Elijah Taylor walked into the Warriors in a school uniform. He will soon walk out a loss for a club trying to usher in an era of consistent success.
The 23-year-old has signed a three-year-deal with the Panthers and how long he has left at the Warriors is very much dependent on how they go against the Titans tomorrow night.
Lose, and the season is over. Win, and their slim hopes of making the playoffs are still alive.
Taylor will be doing everything he can to ensure it's the latter. He's played 64 NRL games since making his debut in 2011 but it feels like he's been around much longer.
It might have something to do with the fact he has been at the club since he was 15 when recruited by Tony Iro into the development squad. Also in that team were Kevin Locke and Bill Tupou. Russell Packer had just made the NRL squad and Ben Matulino was about to move up from Wellington.
Taylor would come to training in his school uniform, dreaming of graduating to the first grade side. He was quickly tagged as a player of considerable potential and a possible future Warriors captain - he captained the 2010 Junior Warriors who won the NYC competition.
It is perhaps only since signing with the Panthers earlier this year that it's become apparent just how big a hole he will leave behind. He has the engine and defensive abilities of Micheal Luck but with more on an attacking threat and this season has combined 662 tackles with six tries and 12 offloads.
He began the year on the interchange bench but offers more than the one-dimensional Todd Lowrie and has been a fixture in the starting side for the second half of the season.
If it was up to some fans, however, he would have left soon after signing with the Panthers in March, which clearly hurt the back-rower.
"There were a lot of people who said I was going to give up or didn't care about the Warriors and I should just go to Penrith now because I had signed at the start of the year," said Taylor who is looking forward to moving outside his comfort zone at Penrith after a difficult past 12 months conspicuous by the passing of his father. "But I'm passionate. I care about this club. I want to do my best to represent the Warriors ... and I think I have. No regrets.
"I just don't want all of our pre-season, how hard we worked, the endless hours we did, to be for nothing. It's something that drives me. A lot of the boys are passionate, they just show it in different ways."
They will need to show plenty of energy and intensity against the Titans tomorrow night or their season will be over. They edged Gold Coast 25-24 at Mt Smart in May and have won the last five games between the two sides and their cause has been helped by the loss of Greg Bird (back) and William Zillman (groin) on top of the season-ending injury to Luke O'Dwyer (knee).
The Titans have won just two of their last seven but the Warriors are on a worrying three-game losing streak that has seen them drop to 13th. Centre Dane Nielsen (ankle) is still a doubtful starter but if he can come through Jerome Ropati will play on the wing.
The biggest concern, however, is the Warriors' mental approach which has seen them play with an unacceptable lack of intensity. "It's all attitude this game and how much you want it as a player," Taylor said. "How much do you care?"
If they all cared as much as Taylor, that would be plenty.
- APNZ