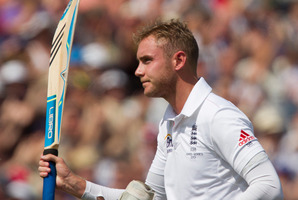 Darren Lehmann's fine for calling England's bowler Stuart Broad a cheat disguises a far more pertinent issue.
Lehmann, in his first series as Australia's coach and presiding over a hefty Ashes loss, is known as Boof.
He let loose on an Australian radio station over Broad's failure to walk earlier in the series when he fat-edged a catch to first slip, via the wicketkeeper's gloves.
"... That was just blatant cheating," Lehmann fumed.
Clearly warming to his topic, he said the Australian players had been giving Broad gyp over the incident throughout the series "calling him everything under the sun" and expressed the hope that the Australian public will give the Englishman both barrels in the return series later this year.
It's cost him a laughable 20 per cent of his match fee which the radio station says it will pay.
That's by the by.
No, the real point about this is that there will be a legion of former Australian players, men whose actions were underpinned by a firm no squealing code - as least in public - muttering darkly into their tinnies at Boof's loose tongue.
What appeared to have got under Lehmann's nose was that Broad has been publicly banging on about how right he was to stand his ground in that first test incident.
That's not smart. Better leave such things out on the field, as players are forever claiming should happen.
But how embarrassing for Australia. Imagine Allan Border or Steve Waugh, and plenty of others; tough, combative men for whom walking after edging a catch behind was simply not contemplated. You abide by the umpires' decision and leave the chips where they fall, for better or worse.
Now Australia's coach, five minutes in the job, has revealed a desperately thin skin and thrown out one of the more emotive words in the sporting lexicon. Silly Boof.
As for urging Australian crowds to let rip, they've never needed much prompting down the generations.
Lehmann's predecessor, the South African Mickey Arthur, has been coming up with some nonsense of his own this week.
Arthur claims Australia had planned to use the present series as a chance to gather information and build confidence ahead of the return series, beginning in Brisbane on November 21.
Come again? Is he suggesting Australia didn't fancy their chances of regaining the Ashes in England?
It seems so, as he added that Australia's goal was to "push England really hard in England, but we wanted to win in Australia".
In which case this might be the first occasion in over a century that an Australian team headed to England expecting to come second, but just to make sure the intel-gathering was strong.
Dear oh dear. But there was more: "We had to take the pain now to get reward at the end of the day."
Who'd have thought, defeatist bunkum from an Australian camp.
As it's happened, you could argue Arthur and captain Michael Clarke's reading of the first half of the so-called 10-test rubber was bang on.
But that escapes the point. Strange days indeed in the storied history of Ashes conflict.