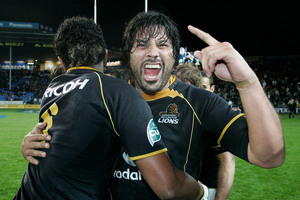 Mark down Wellington as definite contenders. As for Taranaki, just mark them down.
The in-house Hurricanes spat in New Plymouth last night turned into a downpour in Wellington's favour, as they strangled the former first division darlings by 29-10 in front of a 7000 crowd at Yarrow Stadium.
Wellington hardly got out of third gear, and slumped into second during the final quarter, but were still mightily impressive, continuing a fair old start to this year's ITM Cup.
Even without All Black call up Jeremy Thrush - the captain - and a couple of other stars, the capital side displayed a confident power in their forwards that had Taranaki back-pedalling when it counted and saw Wellington dominate the breakdown. Colin Cooper's men looked dispirited, confused and lacked discipline when under pressure.
But when it wasn't raining, it was pouring as far as first-half luck was concerned for Taranaki. To put it more bluntly, they were dealt to by the match officials.
Wellington's initial try to Joe Hill contained a big forward pass and probably a smaller one. The second, to Ross Filipo, was built on lovely short passing among the forwards, but there were two forward passes there as well.
Filipo's second try came in a jumble of body parts on the line - referee Kane McBride sought a video opinion and while there was no evidence that Filipo got the ball over the line the try ruling stood. Put it this way: if the set square precision supposedly being applied to scrum feeds had been used, those first two Wellington tries would have been ruled out. Sport is a funny old game.
Taranaki didn't make their own bad luck, but they didn't make much good stuff either. Apart from one break by new first five-eighths Daniel Brooks, their attack was flat. And after Brooks split Wellington with a classic use of a decoy, he lost the ball anyway. Something is amiss with Taranaki right now.They didn't have much luck, but they didn't really deserve any.
Taranaki have had a demanding start against Canterbury and Wellington. But they are already stuck in a rut. Wellington couldn't maintain their standards to the end, but they have done enough to lay down an ITM Cup marker. The base to their game is in place - the question is how much further on attack can they go.
Wellington 29 (Ross Filipo 2, Joe Hill, Faifili Levave tries; Lima Sopoaga 3 con, pen)
Taranaki 10 (Daniel Brooks try, Andre Taylor con, pen). HT: 22-3.