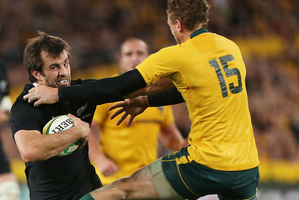 Any chance an appeal from this side of the water for the All Blacks to tone down their ruthless streak might carry any weight? No, I didn't think so.
The problem here in Australia is that rugby is a bit on the nose, not only to the casual follower, but also to a few of the formerly nailed-on devotees who are becoming frustrated with the Wallabies.
I'm urging patience because I reckon this current collection will prove to be a pretty slick outfit. But if they keep making mistakes and missing tackles like they did at ANZ Stadium, I'll look even sillier than usual, and rugby will slide even further down the popularity scale.
To understand where the code is today, you only had to read the sports section of our national newspaper on Thursday, two days before a live-or-die Bledisloe Cup match.
In a journal usually very generous to rugby matters, there was a hidden 10-paragraph story on how the ARU needed to tackle injury problems.
Nothing about the Wellington match, but there were eight stories on AFL, six on rugby league, three on cricket and some tennis and horse racing.
In other words, rugby and the Wallabies desperately need a win tonight, so those mistakes and missed tackles have to be eradicated by James Horwill's men.
There was much talk before and after the first match about the Wallabies' desire to run the ball and play expansive rugby.
The chat before was that Ewen McKenzie was going to give free licence to his team to run the ball to their hearts' content. After the defeat, it was about how this intention cost them the game.
I believe neither analysis was accurate.
McKenzie knows you earn just about everything you get in rugby.
It's always been about preparing properly, making good decisions and trusting players to use their talents in the best interests of the team.
The man they call "Link" also knows that you are not a bad player because you have a bad game. That the only change to the team is an injury-forced one will have already strengthened the bond between team and coach.
McKenzie didn't panic, which is an example to some of his players, who realised that's what they could have been accused of in Sydney last week.
Once a bit of panic sets in, you start to watch, and once you start to watch you begin to miss tackles, and 47 points later you know the upshot.
This was a good Wallabies team a week ago, and nothing has changed, except that second chances don't often turn into third chances, so there are individuals who know they have to play as they can, not as they did.
Bullies aren't looked on kindly today - unless they are wearing black and playing a rugby test.
The All Blacks have been, are, and presumably always will be, ruthless bullies on the pitch.
The Wallabies won't be in the hunt for the Bledisloe Cup until they can be accused of the same.