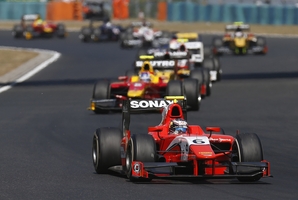 The Formula One circus has arrived at one of the great motor racing circuits this weekend, Spa-Francorchamps in Belgium, and one of New Zealand's most promising open wheel drivers Mitch Evans will be in action.
The Aucklander will be pulling on his helmet for round eight of his GP2 championship and is looking to continue the good form he showed in Budapest, Hungary, where he crossed the line in seventh and second.
The haul of points collected by Evans moved him into 10th place in the series, well within striking distance of Jon Lancaster in sixth.
"I had my career best GP2 finish at the last round in Budapest but I really want to go one better and get a race win," said Evans.
"I'll really be going for that over the next four rounds and I really think we can get that win if everything goes our way. Race pace is very good and we just need to qualify well and I'm very much looking forward to Spa this weekend.
"A win here will help massively and be great for my confidence. To get a result like that in GP2 would mean a hell of a lot to me and give all of us a boost for the rest of the season."
The GP2 drivers have had a mini European summer break, and it's four weeks since many of them in the category have sat in a racecar going about their business in anger. The Spa-Francorchamps circuit is one of the most demanding and fastest collections of corners drivers in any race category will attempt to master.
The Belgium track traverses about 7km and 19 corners and is the longest circuit the drivers in the GP2 series have to negotiate. Not only will the drivers have to be on their best game, engineers and the like will have to be on the ball, as the track has the ability to conjure up all four weather seasons over a single race day.
"It's a track everyone looks forward to racing on. It's one of the great tracks of the world and in the past I've had a pretty good record around there. Last year I got a pole and a podium, which was really good.
"In a GP2 car it's going to be pretty intense and I can't wait for it. The weather is always unpredictable and no one knows what's going to happen. You never look at a forecast because you know it's going to be wrong," said Evans.
Tyres have been more than a bit of a bugbear for all the GP2 teams this year and Evans' Arden International outfit is no different. Along with the Formula One cars, getting the strategy right re tyre wear, usage and management are akin to picking a lottery ticket and hoping you've guessed the winning combination.
As the season has progressed many of the teams are getting their respective heads around the problem of tyre management and strategy, but it's still a delicate balance to get right. Evans is quietly confident he and his crew are getting on top of the nuances required to balance the need for speed and tyre wear longevity.
"It's been a bit of a struggle to get the right balance with the tyres and it's affected some of our results in the past. We're getting on top of it all now and hopefully everything will work out this weekend.
"The team has done a lot of work on the car since the last round and if it rolls out of the truck pretty much okay we won't have too much to worry about. Everyone is starting to get on top of the tyres, which means everyone's getting closer and closer.
"Qualifying is going to be very important and if the car is good early on in the weekend I think we can do well.
"All I'm going to do is concentrate on the best I can do, and if everything works out we'll be able to move a bit further up the table," said Evans.