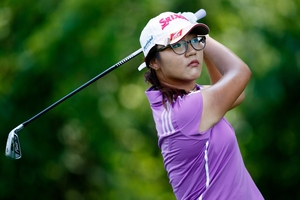 Golfer Lydia Ko took a little while to wake up this morning ahead of her 7am tee off, but when she did she delivered a round that was once again the talking point of the Canadian Open.
"When I tried to wake up this morning my eyelids weren't coming up,'' said Ko in her typical comical way. "I said, 'oh my God, I'm just tired'. But after you've woken up, you're fine, you're ready to go.''
Ko was ready to go alright. The world No 1 amateur opened with a five-under par 65 at the Royal Mayfair Golf Club in Edmonton to claim a share of the round one lead with American professional Angela Stanford and Dutch player Christel Boeljon.
The 16-year-old from the Gulf Harbour Country Club, playing alongside English sensation Charley Hull (69) and Canadian Jennifer Kirkby (67), made six birdies and a bogey to set the early pace.
The Pinehurst School Student made international headlines last year when she won in Vancouver to become the youngest winner in LPGA Tour history.
Like last year she didn't see her fast start coming.
"It was a pretty special week last year,'' Ko said of her record-breaking win. "No, I didn't have that week coming. So to kind of have that kind of week again this week would be like a double miracle for myself.''
Ko said it was an adjustment coming into the event as the defending champion in a world-class field.
"I did feel a little bit of pressure, not from others but from myself thinking because you're the defending champion people are going to expect more and I'm going to expect more from myself. I called my dad a couple days ago, and he said just relax. You can't control everything, and just play the game that you want to play and that you planned.''
That is exactly what happened. Ko reeled off five birdies in the opening 10 holes for one of her fastest starts in pro events in 2013 (she opened with a course record 63 to lead the Australian Open).
Ko was at her ball-striking best. She hit her approach on the par five third to tap-in distance and the rest of her birdie putts were "just reasonable distances, not extremely long or extremely short''.
The New Zealand Women's Open champion said the use of a local caddie, Bruce, like she did last year, was key to pouring in all the birdies.
The world No 19 is feeling well prepared. Like she did this year at Clearwater for the NZ Women's Open Ko came to Canada early to prepare for her title defence.
"Because I got to play a couple times more than the other players, I was able to obviously get a better feel for the course. But yeah, it was really good to see the course like a week ago, and yeah, I can notice that the rough is getting longer, the green is getting faster.''
Ko herself is getting better and better. She has recorded nine top 10 finishes in pro events in 2013 and is yet to miss a cut in 23 professional events.
Ko was the first Kiwi to win on the LPGA Tour. The previous best result was from Marnie McGuire who finished third at the LPGA Safeway Championship in September 2000.
She has made the perfect start as she chases a ``double miracle'' this week in Canada.
- APNZ