All Whites great enjoys difficult challenge of getting Toronto FC up to scratch in MSL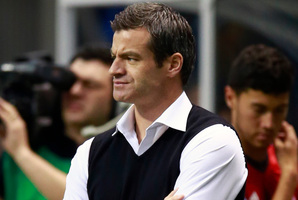 As a player, Ryan Nelsen loved nothing more than testing himself against the world's best strikers. Wayne Rooney, no problem. Thierry Henry, sure thing. Ronaldinho, OK.
It's the same now Nelsen is a coach. The bigger the challenge, the better, and it's almost like he approaches football in the same way a base jumper looks for the most dangerous cliff to leap off.
"Every week your job is on the line and I love that kind of thing," he says excitedly. "I could get fired tomorrow ... that's life ... and that's why it's so much fun. The pressure and stress you go through, you know you're living life."
There are easier ways to start in football management, however. Many begin as assistants or coaches of lower league teams to find their feet before stepping up. Not Nelsen. It's not his style.
The 35-year-old former All Whites captain was appointed head coach of Major League Soccer outfit Toronto FC in January while still playing for Queens Park Rangers in the English Premier League.
He had no qualifications and no experience, just a belief he always wanted to coach one day and, crucially, a club general manager who thought he would make a pretty good one.
Toronto's legacy of failure is incredible. Since joining the league in 2007, they have won just 49 of 212 league games, including 14 of 106 on the road, have never made the playoffs and are on to their eighth manager in seven seasons.
Clearly teams don't have a right to success but, given Toronto FC are owned by the same organisation who own the Toronto Maple Leafs (NHL), Toronto Raptors (NBA) and Toronto Marlies (AHL), there were few excuses for their underachievement. They have terrific facilities, big money at their disposal and a good fan base that regularly fills the 21,000-capacity BMO Field.
"It was probably the hardest job in the league because the club has been so mis-managed for a number of years," Nelsen says. "I didn't know how deep that dark hole really was until I got in and got my elbows dirty. But it makes it more fun, more of a challenge, trying to find solutions. You learn more off these jobs than the ones that go well and it has been an unbelievably fun education.
"It was completely opposite to what I had been used to as a player and that has been one of the biggest challenges. Everything from top to bottom needed correcting. It's literally the perfect storm of what can go wrong. In saying that, it's all very fixable."
Nelsen couldn't do it by buying his way out of trouble like other leagues around the world because the MLS operates a strict salary cap - franchises need to fit 30 players inside US$2.95 million.
Incredibly, given Toronto's lack of success, they were over the cap when Nelsen turned up. He quickly wielded the knife, dumping players who had been fixtures at the club and ridding himself of dead wood as he displayed a clinical edge.
He brought in a host of players on loan, including All Whites and Wellington Phoenix striker Jeremy Brockie, to bolster the squad while ensuring they didn't tip over the cap or commit the club to players he didn't want long term. By the end of May, three months into the MLS season, they had 19 new players but many didn't last long.
Nelsen has now assembled a young squad widely acknowledged to be full of potential and he will be able to add more quality next season as space in the salary cap opens up.
Many believe Toronto are showing signs of turning things around under Nelsen but they have still won only four of 24 games to sit ninth of 10 teams in the Eastern Conference - the top five teams from each conference qualify for the playoffs - and endured a difficult six-game losing streak. But they have drawn eight games, the equal highest in the conference, and lost 10 matches by a single goal.
Toronto are still in the conversation for the playoffs, and the goal for the season was to still be in contention in October. The real ambitions, though, are set down for the future.
"We want to be a playoff team next year, 2015 by the latest, and a team that is the leading point getter in the league every year," Toronto general manager Kevin Payne says. "We have the resources, facilities and owners. There's no reason why we can't consistently be among the top three or five teams in the league."
Payne came in at the end of last season and brought with him a very large broom and plenty of ideas and one of those included Ryan Nelsen.
Kevin Payne has had a long association with the MLS, having helped create the league in 1996 and been DC United president and chief executive for 19 years. During that time he recruited Nelsen, who had impressed enough at Stanford University to be the fourth overall pick in the 2001 MLS draft. Nelsen was named captain in 2003 and led DC to their fourth MLS Cup in 2004 before joining Blackburn Rovers on a free transfer in January 2005.
"I had always thought about Ryan as a coach," Payne says. "When I went to him with this opportunity it was before I had even taken the job. I explained to him that we would have a pretty painful first year but we had an opportunity to really build something almost from the bottom up. He embraced that challenge, as I thought he would, and has done a marvellous job.
"I really believed he had the qualities of leadership, organisation skills, intelligence, open-mindedness to be successful. I knew Ryan was not a trained coach but on virtually every team he played on he was looked on as an extension of the coaching staff. I think we actually have one of the bright young coaching staffs in the league now."
It doesn't mean Nelsen's appointment was met with universal approval. In fact, many fans and media were incredulous.
"I thought it was a terrible idea," Sportsnet writer John Molinaro says. "I didn't understand why Toronto hired someone with no coaching experience or qualifications. Considering the state of the franchise, and this is a team that has struggled since entering the league, I thought the best move would have been to hire someone who has a track record of success.
"I'm still mixed about it. Considering what he has to work with and what he has done with the team, I think he has done so-so. They have definitely looked far more organised under his tutelage. There's more purpose to their play and a tactical identity.
"There are times when he's somewhat naive and I also wonder about his ability to get the best out of players and inspire them to do great things. I think he has this knack of molly-coddling players who have under-achieved and not say things as they are. The real test will be next season once he's had a full season under his belt and brought in players he wants. If a year from now things aren't much better, I would be surprised if he was still employed."
Nelsen has a multi-year contract with Toronto and a boss in Payne who has his back. It doesn't mean things are entirely comfortable.
He has reportedly become more reticent with media over time and practices, which were once open, are now only partially open. .
Nelsen says he doesn't mind criticism ("people love to criticise, it's easy to do," he says) and has always been good at not riding the highs too high or the lows too low.
Brockie has played 14 games for Toronto since a surprise call from Nelsen nearly four months ago - he returns to Wellington next week - and thinks Nelsen is starting to win over the fans and has the tools to succeed.
"He was a very professional and hard-working player on and off the pitch and he's taken that into management," Brockie says. "The leadership and positiveness and the way he talks to you as a team and an individual makes you want to play for him.
"He's still approachable but knows the line between having the respect from the players and when to joke around. When it comes to training and game days, he's a very serious man. He's told me a couple of times he doesn't miss playing and is enjoying his new role."
"I haven't missed playing at all," says Nelsen, who played close to 200 Premier League games and 49 internationals for the All Whites.
"Even in the deepest, darkest depths of a losing streak. I was so happy the way I did it. I got really good closure. The time was right mentally, physically ... everything. I didn't want to be one of those guys who just trudged along and people would say, 'oh, that player was good once'. I wanted to go out on the highest level."
Nelsen's coaching journey is in its infancy but he doesn't know how long he will stick at it. Some of those decisions might not be in his hands anyway but he doesn't see himself as a career coach.
"I just like tackling tough challenges and this is a really tough challenge," he says.
"Even when I was playing, it wasn't that I loved playing football, I just loved the challenges that football delved up and this is the same thing. If something more challenging comes up in the future, I will probably have a look at that."
No one has found the cure for cancer or mastered teleporting yet.
Nelsen's struggles
Toronto played 24
Won: 4
Drawn: 8
Lost: 12