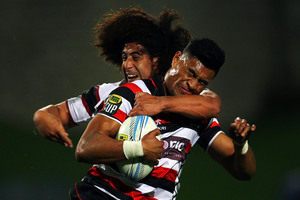 There was good news and bad news for the Blues at Albany Stadium.
On the negative side, feeder union North Harbour crashed badly against an impressive Counties Manukau, who cantered to a 44 - 14 ITM Cup victory. Harbour, who finished bottom of the entire 14-team competition last season, are in deep trouble and there might be questions over the viability or value of the union if this continues.
The good news for the Blues was a couple of storming moments from their big wing Frank Halai, among the Steelers' stars. When Halai got his chance, he swatted opponents away as he powered along for a couple of tries. He is an impressive sight.
Leading 30 - 11 at halftime, the Steelers often looked like men playing boys. About the only area where Harbour had any advantage was at scrum time now and then.
Hika Elliot, the discarded All Black hooker who was making his debut for Counties Manukau, was in a vigorous mood and helped lead the way as the Steelers were too physical for the home side.
Few amongst Harbour showed any naked aggression in trying to fight back when it counted.
North Harbour were down and out at halftime. They had defended poorly, and Counties Manukau made the most of their chances. Baden Kerr's goalkicking - he landed six out of six in the first spell - was superb. Harbour's best break came from halfback Bryn Hall but even there, he lost the ball.
The floodgates opened in the first few minutes when Maama Vaipulu scored after a Rey Lee-Lo break. Flanker Adam Cathcart embarrassed the Harbour defence with a feint and a step and then Halai drove through powder puff opposition to score the third. A series of Kerr penalties completed the deal _ it was almost as if Harbour were feeding their opponents points. Replacement Harbour hooker Adrian Smith burrowed over close to halftime to reduce the Harbour blushes, but not for long.
The Blues, like the few Harbour faithful, might wonder what has gone so badly wrong with a team that made such a promising splash all those years ago under the leadership of the Buck Shelford. You can't escape the increasing feeling that the great man and a few other outstanding luminaries such as Peter Thorburn obscured the real state of this union.
Counties Manukau 44 (Frank Halai 2, Maama Vaipulu, Adam Cathcart, Ahsee Tuala tries; Baden Kerr 4 con, 3 pen, Ki Anufe con),
North Harbour 14 (Adrian Smith try, Jon Elrick 3 pen).
Halftime 30 - 11.