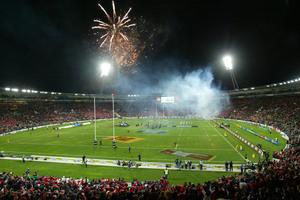 Under the pump was a rugby term that also conveyed images of the dilapidated Athletic Park.
Those who spent any time around the ailing buildings in suburban Newtown will recall the fusty aromas caused by ventilation malfunctions or the latest downpour.
In 1990, there was also the stench of the first All Blacks defeat in 23 tests and 50 games when the Wallabies discovered some mettle to go with their skill.
Another malfunction came in 1993 when a jittery All Blacks team lost 7-20 to the touring Lions and then in 1998 when the Springboks inflicted the second in what was to be a five straight losing sequence for the hosts.
The switch to the Cake Tin came in 2000 with the accompanying fanfare about an all-seated venue within walking distance of the city centre and transport hubs. All true and a far better arena though spectators are some way from the action because the stadium has been configured to hold cricket and AFL matches.
The opening All Blacks test at the ground was also spoiled by the Wallabies' skipper John Eales who took over the goalkicking from Stirling Mortlock and banged over a final-minute winning penalty.
It was a night of contrasting emotions for the Alatini family as Pita Alatini played second five-eighths for the All Blacks after wife Megan and the True Bliss band sang the national anthem.
"It was an awesome occasion, Alatini recalled. "I was just focused on playing strongly, I think we were both a bit nervous about what we had to do that night.
"We had a bit of a rough start, then dominated before we had a couple of lineout panics and they got in front. Good memories of the whole thing though."
Alatini and his wife can reminisce tonight when they front for an All Blacks reunion dinner in the capital as a prelude to tomorrow's return Bledisloe Cup meeting.
Since that 2000 test the All Blacks have lost just one more of their 17 tests at the ground when they were beaten 15-13 by England in what was to be a pointer for the World Cup later that year.
Starting survivors from that night are All Blacks skipper Richie McCaw and Ma'a Nonu who made his debut at centre. Those days Nonu was a handy Hurricane making his way into the world of test rugby.
These days he has top-class credentials from 80 test matches and a mysterious subplot of being an unattached Super 15 player playing on a ground he would like to call home once more.
Since Eales curved his late penalty through the target in 2000, the sides have met just twice more in Wellington with the All Blacks winning 16-7 on another difficult wet evening in 2004 and 33-6 when they nuked the visitors in 2009.
The All Blacks have suffered some five-eighths trauma as they did before their 2011 World Cup test in Wellington against Canada.
They lost Daniel Carter for the tournament to a training mishap and Colin Slade was pressed into his ninth international. He played only one more before he, too, was injured and joined Carter on the sidelines.
Injury continued to hammer Slade until this season when he made a steady comeback for the Highlanders. When the SOS call came this week he and Tom Taylor were summonsed with Taylor picked for his test debut.
"We think he has got the maturity and mental ability to cope with what we are asking him to do," said coach Steve Hansen. "Probably the biggest swinger was he kicks goals at about 90 per cent and we think that's important."
Taylor should not be fazed by his elevation as his father Warwick played 24 tests and many All Blacks visited the family home as he was growing up in Christchurch.
He did not know Aaron Cruden and Beauden Barrett were injured during last week's start to the Rugby Championship. Those fates happened in sport and he had been thrown into situations before when he was not quite ready.