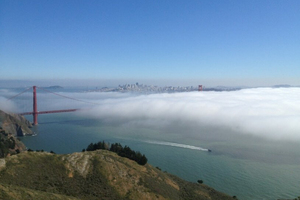 It is San Francisco's most mysterious and misunderstood landmark.
The gloomy mist that enshrouds the city is a typical weather phenomenon in the Bay Area - even in summer. A beautiful clear sunny day in San Francisco can quickly turn into a chilly, grim evening as the prevailing wind along the California coast picks up and the fog rolls in, blanketing the city in dampness.
The boring scientific explanation for this is advection, which is basically just transference of heat, namely warm air moving across the cooler Pacific Ocean.
But the fog itself is anything but boring. In fact it turns out he's quite a character. The iconic San Francisco fog has taken on a persona of its own and goes by the name of Karl.
Karl the Fog has a strong online presence and has amassed a loyal following, with his own Fog Blog, Twitter, Instagram, and Tumblr accounts - even his own LinkedIn page, in which he describes his job as manager of the cloud community.
Among his honours and awards is being named in Time magazine's top 140 Twitter accounts to follow.
On a day when the fog crawls over the city, the Twitter account for @KarlTheFog will start getting tweets. Sometimes it's just comments about the fog, sometimes it's pictures and remarks about fog in other parts of the world.
A ruined summer picnic, open-air concert, or sporting event is blamed simply on Karl - his name creeping into the everyday language of San Franciscans.
Karl - who goes by the motto "just dew it" - relishes in the attention of being San Francisco's most notorious weather phenomenon.
He is particularly proud of his photogenic qualities, and claims his misty presence is just his way of showing his affection. When Karl is away on holiday he'll provide updates of his whereabouts and also offers his thoughts on current affairs.
But be warned - he also has a callous streak. One of his favourite pastimes is catching tourists out with his sudden, unexpected arrival and he will gleefully boast of his success in doing so: "Today's forecast: mostly foggy with a chance of tourists buying SF fleeces at Fisherman's Wharf because they only packed T-shirts."
Some of the media contingent in town to cover the America's Cup have already been caught out by the abrupt change in climate. Of course, no one from the Herald's San Francisco bureau falls into that category as we are always a step ahead of the opposition.