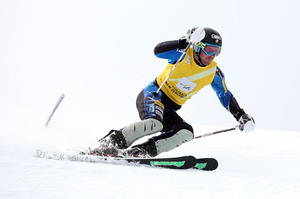 It was an American double in the Winter Games slalom events at Coronet Peak today.
World No 25 David Chodounsky won the men's title, contested by 97 skiers, by a slim .08s from Japan's Akira Sasaki, with giant slalom winner Adam Zampa of Slovakia taking third.
Teenager Paula Moltzan won the women's crown, her first at that level, recording a combined 1:29.04, to beat another 19-year-old, Michelle Gisin of Switzerland by .86s, with American Megan McJames third.
Codounsky had the fastest first run of 44.19s but Sasaki blitzed the field with a 40.15s second time down.
"It's proving to be a great summer," Chodounsky said, referrring to two recent wins in Australia.
"I am on a roll. The first run got quite rough but the second held up well and although I made a little mistake I am pleased with the result."
Akira, ranked No 35, admitted he benefitted from his coach setting the second course, while Zampa, ranked No 37 and this being his preferred discipline, was angling for a higher finish.
He was second after the first run but slipped a touch on the second.
The first New Zealander home was Adam Barwood, in 1:29.05, making a 33-point result which will help lower his world ranking.
Moltzan prevailed in a tight women's event featuring 67 competitors. She was second after the first run but overtook Gisin, who had led at halfway.
McJames leapt from 13th to third with a strong second run of 45.37s.
Moltzan, ranked No 144, 103 places above Gisin, was delighted.
"The second run was very bumpy but I just kept going and this is a very exciting result in my career," she said.
Gisin was pretty happy too.
"It was a great race and it is very cool to be here," she said.
Eliza Grigg was the best of the New Zealand finishers, in 33rd spot after a time of 1:41.93.
Results:
Men: D. Chodounsky (US) 1min 25.24s 1, A. Sasaki (Japan) 1:25.32 2, A. Zampa (Slovakia) 1:25.61 3. Also: A. Barwood (NZ) 1:29.05 21.
Women: P. Moltzan (US) 1:29.04 1, M. Gisin (Switzerland) 1:29.17 2, M. McJames (US) 1:29.90 3. Also: E. Grigg (NZ) 1:41.93 33.