Three wins plus results going their way might get NZ franchise into NRL playoffs.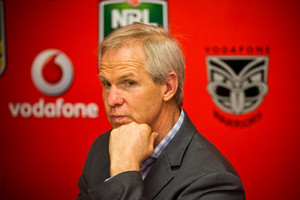 A year ago tomorrow the Warriors fired a coach after a home defeat to the Panthers which left them with eight wins and two games remaining, both of which they lost.
Sunday's 24-28 loss to Penrith, the Warriors' third straight, means the club have nine wins with three games remaining - all of which they need to win to have any chance of making the NRL playoffs.
Brian McClennan's replacement, Matthew Elliott, will be hoping the symmetry ends there.
Despite their third three-game losing streak of the year, their season is still alive and regardless of where they are on the table, this side is in a better position than the 2012 crop.
Wins over top four sides the Roosters, Sea Eagles and Storm prove they can beat any team. However, lack of consistency has been their downfall.
When the Warriors are on a roll, they are hard to stop (see rounds 11 through 16) but when they fall flat they all seem to wait for someone else to lift them out of it.
Elliott still believes the side can turn things around and won't be making any drastic changes to do so.
"There are three games to go, which still puts us with an outside chance and I'm prepared to run with that and I believe in the 17 guys who played [Penrith]," he said.
"I have seen what they can do. My disappointment is around that. If we were playing as well as we could and losing, that would be fine. But the guys who are in the team at the moment ... we haven't done well enough the last three weeks.
"I have always believed. I believed in the first 10 weeks when everyone questioned it. I'm disappointed now but my belief hasn't evaporated. My belief in what this group is capable of is huge, we just have to produce it."
The Warriors are 13th on 22 points, just two competition points behind their next opponents, the eighth-placed Titans, but their points differential of -86 is a big problem. They not only have to win their last three but hope other results go their way.
The 11th-placed Cowboys and a resurgent Broncos in 10th are finding form while the ninth-placed Raiders, like the Warriors, are teetering after three straight defeats.
Warriors' run-in
* Titans (away)
* Raiders (home)
* Dragons (away).