Past all but forgotten as comfortable win over Hull City gives Mourinho perfect start on his return to Chelsea.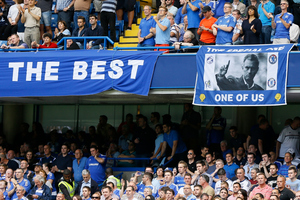 This felt like a testimonial for Jose Mourinho at times rather than a contest for Premier League points. When Chelsea were awarded a penalty, one half-expected Mourinho to be invited on to do the honours. Hull City stirred only in short periods, mainly being outclassed by hosts galvanised by Mourinho's return.
Chelsea, especially in the first half, played with a real tempo, pressing hard, moving the ball quickly, scoring through Oscar and Frank Lampard and enjoying a highly promising display from Kevin De Bruyne on his debut. The sun shone, the points were claimed, the fans celebrated and all seemed well at the Bridge.
This was more than a win. This was a club reunited after the divisions of last season, and occasional fractious outpourings from the terraces. This new mood was wrought by Mourinho. Chelsea fans welcomed the Happy One (the artist formerly known as the Special One) with a banner of "We are the happy ones". Others declared him to be "one of us" and "simply the best". Mourinho reciprocated with a regal wave, some blown kisses and gushing programme notes to "my Blues brothers".
Conveniently forgotten in this love-in was Mourinho's previous game here, the 1-1 Champions League draw with Rosenborg in front of a restless 27,973.
The team languished fifth in the Premier League at the time, Mourinho and Roman Abramovich had fallen out and Chelsea's love affair with the Special One was hurtling towards divorce, the decree nisi announced on September 20, 2007.
Other managers have come and gone, some like Guus Hiddink, Carlo Ancelotti, Roberto di Matteo and Rafa Benitez delivering trophies.
But the strange Benitez era of last season saw the Europa League collected but the club divided. The fans even turned briefly on their benefactor. "Roman Abramovich - is that what you want?" they asked at Upton Park when losing.
Now peace reigns. Chelsea fans always held a candle for Mourinho. As the memory of the dark days of 2007 faded, the candle burned brighter. His restoration to huge acclaim had them singing the name of their owner yesterday, thanking him for a remarkable decade and also for their special present. Abramovich responded with a self-conscious smile and wave.
Marking his 10th anniversary, Abramovich paid tribute to the supporters in a special cover on the programme: "We have had a great decade together and the club could not have achieved it all without you. Thanks for your support. Here's to many more years of success."
Twenty-nine words. That's an expansive, no-holds-barred interview by the usual standards of the reticent Russian.
Visiting manager Steve Bruce referred to Chelsea as feeling "united" again. Mourinho and his team face far tougher assignments than Bruce's outclassed Hull, but this was a good start. Chelsea and Mourinho may have their Taylor and Burton moments but the remarriage looks strong.