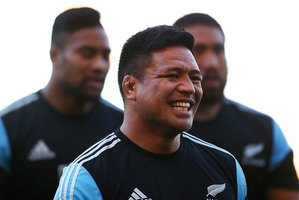 Step right up, step right up and make your case to be an All Blacks hooker - it's apprenticeship season.
There's no secret the All Blacks coaches are concerned about the advancing years of their two premier rakes and it's a $64 million question as to whether Keven Mealamu and Andrew Hore, both 34, have enough left in their legs to make it through to the 2015 World Cup.
Mealamu has struggled with calf problems this year, while Hore doesn't have the same zip around the paddock of old but the biggest problem has been finding replacements who are up to the mark.
Hika Elliot came and went, Dane Coles is currently being given a chance to show what he can do and now there's the new apprenticeship scheme.
For each of the three weeks the All Blacks play a home test match in the Rugby Championship this year, one of the country's young hookers will spend the week with the national squad.
Highlanders rake Liam Coltman is the first on the production line as he joined the All Blacks in Wellington yesterday (mon) ahead of Saturday's test against Australia at the Cake Tin and All Blacks assistant coach Ian Foster said the new initiative was a positive plan.
``I think it's pretty clear the reasons that have led to it,'' Foster said of the idea. ``We've stated that hooker's an area that we do want to develop some young players and I wouldn't call it an academy. I think we'll be loosely using the word `apprenticeship'. It's just a chance to bring a few young players in to give them a taste of what it's like and I guess for us to get to know them a little bit more too. So this week it's Liam's turn and hopefully he'll leave the week with a good understanding of what it's like to be an international player and we've got a better knowledge
of where he is.''
One would assume Chiefs youngster Rhys Marshall would be another who will get a chance to spend a week in the All Blacks' camp, while other possibilities include Hurricane Motu Matu'u, Crusader Ben Funnell or Blues back-ups Quentin MacDonald and James Parsons.
Hore also gave the new scheme his seal of approval.
"It's pretty exciting, really. Obviously as you get a bit older it's good to be able to train other people; and to teach someone I suppose you've really got to know what you're doing as well,'' Hore said.
"So it makes you sharpen your own axe up as you're working with these guys.''
Hore mentioned yesterday he wouldn't mind a sabbatical next year with the 2015 World Cup in mind but it was more likely his tongue was firmly placed in his cheek when he suggested taking the summer off so he could spend time on the farm.