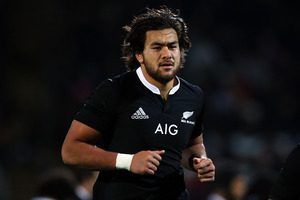 The nation may have enjoyed Steven Luatua's outstanding performance but the man himself didn't.
He discovered that test football is as intense and relentless as the old timers say it is and there wasn't a moment of comfort to be found.
The game started at a lick and got faster from there and Luatua felt he was chasing it for the 80 despite appearing to be more than at home with it all.
The 22-year-old blindside, originally not in the match-day squad, was elevated into the starting XV on the way to the airport on Thursday.
Liam Messam's hamstring had tightened in the last 10 minutes of training and as Luatua crammed himself into his seat on the plane to Australia, he tried to come to grips with what the next 48 hours would be all about. "I was pretty nervous.
"Flying over I was still in shock leading into the game. I was lucky enough to have Andrew Hore as a room-mate who was encouraging and influencing in my preparation.
Richie [McCaw] and Reado [Kieran Read] just told me to go out there and do my job. Having played alongside now I can see even more they are pretty special guys."
Even almost an hour after the final whistle, showered and kitted out in his number ones, Luatua looked like he'd just got an unexpected tax bill.
There was no appreciation of how well he'd played or how emphatic the victory had been.
"Probably not," was his reply when asked if there had been any point in the game when he suddenly felt comfortable and began to enjoy it. "For most of the game the lungs were blowing and the legs were heavy."
Presumably, what he achieved will start to sink in over the next few days when the All Black coaches debrief the players and begin planning for the next clash.
The review will show how Luatua used his athleticism to get about and stayed close to the ball. He was able to make hard carries, win lineout ball and defend with his customary accuracy. It was a performance that confirmed the potential he's shown all season and one that will have made the injured Messam a little wary.
"We had a young man who came into the side in the last five minutes of training on Thursday and played his first full international - that was Steve Luatua - and I thought he was quite outstanding," said All Black coach Steve Hansen.
"The pleasing thing about Steven is we didn't know what we were going to get. We thought we knew. It is one thing coming on and having a cameo when the game is all over like he did [on debut against France in the third test]. But to get chucked in the deep end like he did - you are not sure what you are going to get. We hoped that we would get what we got but you are not sure with a young player like that and I think he will get a lot of confidence out of tonight, and there is a lot more in him."
Getting more out of him is the challenge the All Black coaching group have set themselves this week.
For Luatua the challenge is to play as well as he did in Sydney, if not better, and to actually enjoy it.