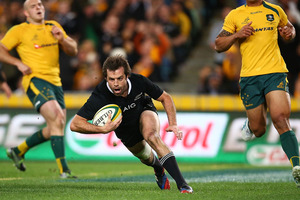 Bledisloe Cup statistics show how quality will beat quantity most times.
The All Blacks won half the breakdowns the Wallabies did, they lost a third of their lineout throws and half of their scrum deliveries while their hosts nailed every lineout yet lost four of their six scrums.
The setpiece was untidy with neither team getting seriously acquainted with the new scrum sequence while in general play, the All Blacks were penalized twice as much as the Wallabies by referee Craig Joubert.
The Wallabies also managed more than double the passes and had a few more offloads than the All Blacks yet when the bell sounded they had been belted 47-29.
Why the difference? The moral of the test was all about what you do with the ball.
The All Blacks claimed twice the turnovers and made more clean breaks than their rivals. While the Wallabies seemed much more lateral in their work the All Blacks were sharper on their incisions and attack.
They made six clean breaks and had six tries. They were very content with the opening Bledisloe Cup outcome but those figures show how coach Steve Hansen and his crew have plenty to work on this week with their side.
It was a bright start but a test without massive structure as the teams got used to the changing tempo of international rugby once more and the scrum changes.
It showed how much scrums had deteriorated in fairness. Laws about the ball being put into the middle of the contest, have not altered. However in recent times the scrum has become more of a restart than a true contest.
Both Aaron Smith and Will Genia had trouble finding the centerline with their scrum feeds and Joubert penalized them for those infractions.
That, the lineout and better continuity will be the prime tasks on the All Black lists this week.
***
Luke Romano faces a six week break after suffering a groin injury last night - he will be assessed further in Wellington. Aaron Cruden looks fine to back up next week despite an injured knee but a calf injury for Beauden Barrett means Canterbury's Tom Taylor has been put on standby.