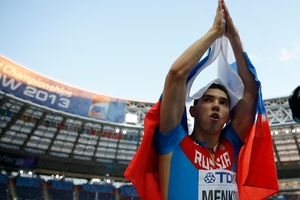 Usain, it could be time.
Rattle your dags and mosey on over to that long jump pit; give those sand-plungers a bit of what-for. Turn it into Bolt Beach.
History suggested Bob Beamon's 8.90m leap to win Olympic gold at altitude in Mexico City might never be broken. The adjective 'Beamonesque' (alongside synonyms like 'Bradmanesque') originated from it ... once they'd found enough measuring tape.
Yet 22 years 10 months and 12 days later American Mike Powell flew 8.95m to win world championship gold in Tokyo in 1991.
No one's come close since. In 12 days, Powell's record will clock up 22 years.
It should be stressed neither Beamon nor Powell has ever been linked to doping. Powell, who is at the world championships this week, also went on the record at an International Association of Athletics Federation media conference as an advocate of the new four-year doping bans for first-time offenders which will be in place by 2015.
Previously he's mulled over the prospect of life bans.
"Whether it be business or sports or politics, if there's advantage to be gained, there's going to be a certain segment of society that's going to cheat every time," he said.
"But it's a segment. So when you report about athletes testing positive, it's a small segment, not the majority.
"We're willing to bust our stars."
That's easy for Powell to say now he's comfortably retired at 49, but there's nothing to taint his uplifting performances. He's a victim by association with the era he competed in.
Surely it'd be worth a squiz if Bolt, who appears a relatively co-ordinated chap, plants one of his size 13s legally on the take-off board. Maybe he doesn't like sand in his shoes. Perhaps he hasn't mastered that dog-paddle-in-the-air look. Presumably he has a fair idea of his capabilities.
The discipline (are you listening, Usain?) needs a rark up. At present, it lives in sprinting's shadow. The best jump this century was American Dwight Phillips' 8.74m in 2009 and, at 35, he's retiring.
Britain's Greg Rutherford sprang 8.31m by comparison to win at the London Olympics.
Even Powell has been disheartened. "Especially as someone who never won an Olympic gold," he told French website RFI. "It's time for someone to jump 8.60m or 8.70m or threaten the world record. It's time for someone to make me nervous."
Aleksandr Menkov was the only jumper to go close on Friday night, leaping 8.56m in front of his home crowd to win by 27cm. He is the first European to become world champion. At 22 he also has a future ... unless the Jamaican alchemist has a change of heart.