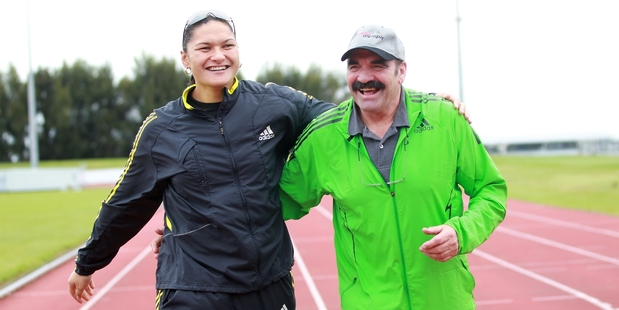 Impeccable manners; shoulders like Atlas; Magnum PI 'tache.
Meet Jean-Pierre Egger, the 70-year-old medicine ball of charisma who mentors Valerie Adams, colossus of the women's athletics world.
When the Swiss talks, in excellent second-language-English, you feel compelled to listen. His earnest countenance draws you in. The crow's feet around the eyes hint he chuckles often.
He has won Adams' trust and that's not easy; the 28-year-old hardly suffers fools gladly.
"He's like a father to me. I love the man," Adams said after her latest triumph.
That's no throwaway line. Egger has welcomed Adams into his family when she's been in Switzerland to ease the homesickness. His wife Beatrice and Valerie (Egger never shortens it to Val) have become friends.
It was evident after the Olympic Games, too, when drugs cheat Nadzeya Ostapchuk was dethroned. Adams went straight to Egger's house. When Beatrice opened the door she exclaimed 'we won, we won the gold medal' between joyful sobs. Then Egger appeared and it was mutual bear-hug time.
"I'm like his long lost child," Adams says. "He looks after me as a person as much as an athlete. We can talk about anything: politics, religion, family, you name it.
"Jean-Pierre has two daughters and I say to them 'thank you for lending me your father'. Beatrice has been loving and supportive as well. It's important being able to chat to her about things from a woman's perspective. I've just about become part of their furniture."
"The relationship between Valerie and my wife is important," Egger says. "It could tend to become a competition in the past because I'd sometimes give more time to the athlete than her. When I agreed to help Valerie I was happy they got on well. If I say anything against Valerie, my wife defends her," he chuckles, deploying those crow's feet. "It means she also contributes to the team."
Adams chimes in: "We've never walked away from each other angry at training. We always kiss hello and goodbye."
Wisdom plays its part.
"I worked for 12 years with [Swiss three-time shot put world champion] Werner Gunthor," Egger says. "One day I left training angry. I said, 'Now, my dear, I have my girls at home and it's more important to give them time today than you. Goodbye.' I'm not a good conflict person."
Egger first met Adams 11 years ago in Auckland when he was working as strength and conditioning coach for Alinghi in the America's Cup build-up.
Adams' former coach Kirsten Hellier met Egger in New Caledonia during 1993 back when she was competing in the javelin. Nine years later she rang to ask if he could observe a young girl training.
"I immediately recognised the possibilities," Egger says. "I remember saying to Kirsten, 'you have gold in your hands'.
"I used to follow Valerie's results and then [former coach] Didier Poppe got me to do some training with her. That was where I thought the adventure finished."
The rest is well-documented. Adams decided she wanted to work with Egger full-time.
"I was in a panic so I was stoked he said 'yes'," Adams says. "My personal situation made it a lot easier just to go [to Switzerland]. I didn't want to finish my career because of another person, you know, divorce and divorce [with ex-husband Bertrand Vili and ex-coach Poppe]."
Egger says it was a risk.
"I'm an old man and I was afraid it wouldn't work. I had coached men at least 90 per cent of my career, so that was a concern, but then I thought, 'well, I only deal with women at home, so it shouldn't be a problem'. Valerie had come so far, so I asked Werner [Gunthor] at the Magglingen training centre to assign someone to work with her every day. It's the reason we tried to integrate Valerie with my family and friends."
Those same family and friends, including Adams, will celebrate Egger's 70th birthday at his home next weekend. Adams and Egger have set aside a bottle of champagne to celebrate when she returns from the Diamond League meet in Stockholm.
During the interview at Moscow's Golden Ring hotel, the third member of Team Val pops in.
"Ah, my Lou-li-belle," Adams booms.
Louise Johnson has been Adams' physiotherapist for 13 years and someone she referred to as her "lifesaver" after winning last week. Johnson has visited Switzerland to offer Adams treatment on three occasions this season.
"Do you want a beer, J-P?" Johnson inquires.
"Non, non, but thank you ... maybe later," Egger replies.
"When you're with Jean-Pierre you enjoy the journey more," Johnson says. "He's so relaxed. It's like being with Graham Henry walking along the street [in Switzerland]. You can't go anywhere without someone stopping to talk.
"He has set up a sustainable campaign which also involves our families. My family has come to Switzerland; his granddaughter has stayed with us. It's a different style but one New Zealanders could learn from."
Egger says Johnson has helped him work better with Adams.
"She's not only competent [as a physio] but also with people. You must know a person before you can help them. She's on hand whenever Valerie needs her. Lou has helped me plan how to motivate Valerie further so she can get better. She had the energy to get revenge after last year but sometimes the absence of strong competitors [like now] can make things flat.
"When the German [Christina Schwanitz] threw 20.41m for silver [in Moscow] I said to Lou I wished a few others would do likewise to drive Valerie, because she is a fighter. If you are ahead by almost a metre you don't need to be a fighter."
Egger wants Adams to avoid doing "a Beamon". Bob Beamon produced an 8.90m long jump in favourable conditions at the Mexico City Olympics and never got near it again.
He left the sport.
One solution being considered is placing a bet involving the removal of Egger's famed moustache if Adams can exceed her 21.24m personal best. He had one such bet as strength and conditioning coach for the French basketball team that took silver at the Sydney Olympics.
"I said 'yes' because I thought they'd never do it," Egger says.
Egger has enjoyed his return to Moscow. He came here in 1980 for the second of his two Olympics and competed on his 37th birthday. He chose to ignore the boycott (Switzerland had a flexible policy) but, apart from nipping out of the village to visit Red Square and see Swan Lake, he remembers little because the place was shrouded in secrecy.
"It was great to experience this with Jean-Pierre and relive some of what he did," Adams says.
Egger pinpoints a key difference in Adams' mindset since they've been together.
"She is less dependent on others. Now she decides what she wants to do. She lets you know whether she agrees and disagrees. [Switzerland has been] a big step in her life.
"She is truly free."