The All Whites striker wins over fans in Toronto while dodging Wellington's winter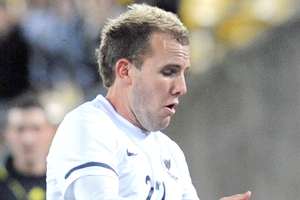 All Whites striker Jeremy Brockie has been to Boston, Washington DC, Houston, Kansas City and Los Angeles in the past three months.
He's also attended a Toronto Blue Jays baseball game, been awestruck by the 553m CN Tower and stunned by Niagara Falls.
While the rest of his Phoenix team-mates have been slogging it out in wintry Wellington, Brockie has been sampling life in the MLS, on loan with Toronto FC. He's enjoyed the experience, but jokes he won't miss the daily commute to training.
"In Wellington, it takes me about two minutes," laughs Brockie. "Here - well, there is a lot of traffic and it can take a while."
It's what you would expect in Canada's biggest city, with a population of around six million spread across the greater metropolitan area.
Toronto is often used by Hollywood to replicate New York and is a city of skyscrapers, with 70 buildings higher than 120m (Auckland has eight; Wellington has none) and more than 1900 high rises.
It's also a cosmopolitan city, with around half the residents non-natives. Brockie has enjoyed the many parks and green spaces and even found a Kiwi restaurant called Hemingways, with kumara fries and sauvignon blanc.
Brockie has scored only one goal during his stint but on other measures has been a success. The MLS club has made no secret of their desire to bring him back at some stage and fans have loved his wholehearted approach.
It can be difficult for a loan player, with the expectation they are there to make an impact, but the well travelled Brockie settled in almost immediately.
The Toronto squad were welcoming and it helped having former All Whites team-mates Ryan Nelsen and Duncan Oughton on the coaching staff.
The scale and size of the Toronto operation has been an eye-opener; they have just spent $18 million on refurbishing their training facility, which include hot and cold pools and a huge gym and indoor training facility.
Despite their relative lack of success (Toronto have never qualified for the play-offs), they still average crowds of around 20,000.
On the field, Brockie draws similarities between the MLS and the A-League.
"[The MLS] is a physical, hard-working-type league," Brockie told the Herald on Sunday.
"Then there are some individuals that shine. It's probably 10 years ahead of the A-League and a good model to follow."
Brockie has high praise for rookie coach Nelsen, who has impressed with his approach.
"As a player, he was the ultimate professional and had great leadership qualities, so he was already well equipped," says Brockie.
"He is very detailed in his approach to training. If we are doing a drill, we work on it until it is perfect, until we are doing it right every time."
Brockie has also picked up some valuable insights from the former Blackburn, Tottenham and Queens Park Rangers defender.
"He knows defenders well, so he has passed on some good tips, especially around reading the body language of defenders and what they are going to do next."
Brockie is looking forward to working with new Phoenix coach Ernie Merrick - "all the boys have told me he puts a real emphasis on the attacking third, which is obviously great for a striker" - and also developing a rapport with Costa Rican import Carlos Hernandez.
The 25-year-old also has one eye on November's World Cup play-offs and pushing for a regular spot in the All Whites.
In the past, Brockie has generally been used as a utility player, usually on the flanks and even played one game against Australia at left back.
"One of the reasons I chose to come to Toronto was to get the best possible build-up leading into the next [12 months]," says Brockie.
"In the [New Zealand] side, we have plenty of quality up front but I really want to push my case."