Suaia Matagi's breakthrough into the NRL is the latest step in a remarkable personal transformation, writes Michael Burgess.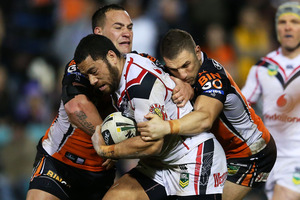 Sitting in a prison cell, Suaia Matagi hit rock bottom six years ago. Serving a three-year term for a serious assault, the 19-year-old vowed to turn his life around.
First he found God and then a job, as he set about making a name for himself in Auckland's Fox Memorial club competition.
His years of hard work paid off when he broke into the Warriors' playing squad this season and now he's becoming a new crowd favourite in an old-fashioned way. Matagi has played only a handful of games but is becoming something of a cult figure at Mt Smart.
With his hard-charging, fearless approach to the sport, his style is reminiscent of Hitro Okesene, Joe Vagana and Iafeta Paleaaesina, men who brought Warriors' fans to their feet as they steamrolled opponents.
It's something that appeals to Kiwi league fans, going back to the days of mud and mayhem at Carlaw Park. Visiting international teams would consistently be surprised by the ferocity of the forward challenge from Auckland teams, which went a long way towards creating some memorable upsets.
The game has become more structured, regimented and streamlined since then but Matagi is from the old mould. He bursts on to the ball from deep, creating a massive collision on impact. The rookie will play only his eighth NRL game today against the Panthers but he has been an undoubted success so far, bending the defensive line and leaving opponents in his wake.
"He has got some obvious, eye-catching strengths," says Warriors coach Matt Elliott. "Suaia is a powerful man who creates great momentum and he has made a big impact. He has a long way to go but it is something that is working for us at the moment."
Matagi provides bang for the buck. He is still adjusting to the physical demands of the NRL but has averaged more metres per hit-up (10.16m) than any other Warriors forward in the past month.
The 25-year-old has handled the step up to the NRL remarkably well. He couldn't sleep the night before his debut against the Bulldogs in Wellington but has looked nerveless on the field. He showed poise and skill to set up the first try against the Tigers and exhibited his drive last week when he unsuccessfully chased David Williams 90m after a failed Warriors' attacking bomb.
"I'm grateful just to be here," Matagi told the Herald on Sunday. "To be in the NRL, to be playing my part. When you set goals and you keep hammering at them for a long time, when you get there, it is like climbing a mountain. Sometimes I am speechless when I look back at how far I have come."
Matagi's path to the NRL has been improbable. He went "off the rails" aged 12 and was a regular visitor to the Youth Courts; there seemed little hope of redemption.
Even with his rough background, jail was a shock for the 19-year-old.
"On my first day [in jail], there were a couple of fights," says Matagi. "It was now my reality. I didn't want to live the rest of my three years putting my back against the wall. Every day, there can be a danger. There are a lot of guys serving life inside.
"When I finally settled into prison, I realised life had no purpose there, there was no meaning to anything, really. I had been led to that dead end - that's when I knew I had to get out and try to find a way."
Matagi's only league involvement, apart from watching the Warriors on television, was full-blooded games of 'crash' in the prison exercise yard.
"It's played on the concrete and you run full steam at each other," says Matagi. "You have to play - you have no option. It's about respect. You have to earn your respect inside and if you are not playing, it's like you are being rude. If the game is on, you have to front up."
At his lowest ebb, Matagi says his turnaround began with a new-found faith in God.
"It gave me faith and hope, restored my vision and pulled me out of the pit because I was so lost," says Matagi. "I had nothing. I let my family down, my partner and I missed my daughter's first birthday. I was surrounded by four walls of nothing and at a dead end."
Matagi likes to quote Jeremiah 29:11: "'For I know the plans I have for you,' declares the Lord, 'plans to prosper you and not to harm you, plans to give you hope and a future."'
Matagi enrolled in numerous courses as part of his rehabilitation and was granted parole at his first attempt after a year. Life on the outside wasn't easy at first. He was knocked back for "heaps" of jobs due to his criminal record before landing one on a rubbish truck, later working 12-hour days as a driver for a laundry company.
League success came more quickly. He stood out in the Fox Memorial, first with Te Atatu, then in a longer stint with the Mt Albert Lions. Matagi has retained close links with the Lions.
He visits the club most Thursday nights for a meal and catch-up with his former team-mates and recently volunteered to hand out awards at the upcoming junior prizegiving.
"He made a huge impression here," says a club spokesman. "His ability stood out almost immediately but he was very humble; a team man and always eager to assist at the club, including with the juniors. We are all just rapt for him as he has worked hard and deserves his success."
"I never forget where I came from," says Matagi. "Mt Albert has done a lot for me, helped me in a lot of areas, and I like to give back. I never forgot I came from the Fox and worked my way up."
Matagi shows that it is possible to make the NRL progressing through local club competitions.
"A dream won't come to you - you need to go out and get it," says Matagi. "I fell down in the past; I got back up and I am not going to let that hold me back."
"Suaia's is a great story but he is not being picked for his story," says Elliott. "He has proved himself for a period of time now. He is the [2013] Vulcans' Player of the Year and was the New Zealand Domestic Player of the Year [in 2012]. He is a quick learner and takes direction well."
Matagi made his Vulcans debut in 2010 but was restricted to playing home matches, only granted a visa to enter Australia last October.
Despite their recent dip in form, Penrith looms as a tougher than expected test today. The fact the Panthers are outsiders is a reflection of the fluctuations in the NRL. The Warriors were paying $1.15 at the TAB last week despite being beaten by a record 62-6 in Penrith in May.