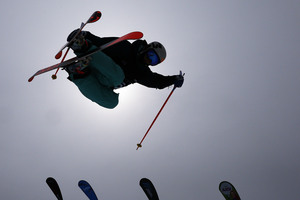 The Winter Games has become a Kiwi success story.
The Audi Quattro Games, which was introduced in 2009, is established as one of the top five winter sports events in the world and the only one in the Southern Hemisphere.
In 2013, a record number of 41 nations have entered - including winter sports powerhouses such as the US, Canada, Switzerland, Austria, Australia, China, Japan as well as relative minnows Dominica, Venezuela, Belgium and British Virgin Islands.
It will stage six World Cups - two IPC alpine slaloms, FIS freestyle ski slopestyle and halfpipe plus FIS snowboard slopestyle and halfpipe. The freeski events were awarded platinum level sanctioning by the Association of Freeskiing Professionals (AFP) which put the Games on the same level as Winter X Games.
More than 750 athletes have entered across five sports - alpine skiing, freeskiing, snowboarding, cross-country skiing and curling.
For Kiwi winter sports fans it is a chance to watch the world's best athletes compete just six months before the 2014 Winter Olympics in Sochi, Russia.
Among them is snowboard legend and reigning Olympic halfpipe champion Shaun White (US) plus the entire medal podiums for men's and women's snowboard halfpipe at the Winter Olympics in Vancouver 2010.
Joining him are Gus Kenworthy (US), Jossi Wells (NZ) and Henrik Harlaut (Sweden) - the top three men freeskiers overall on the 2012/13 AFP World Tour - plus women's champion Tiril Sjstad Christiansen (Norway), Maddie Bowman (US), first in this season's AFP halfpipe world ranking, and Devin Logan (US) who won all three freeski gold medals at Winter Games NZ 2011.
The field also includes reigning paralympic gold medallist in alpine slalom, Adam Hall (NZ), and reigning Olympic gold medallist in cross-country skiing Nikita Kriukov (RUS) plus compatriot Alexei Petukhov with whom he won the sprint relay at the 2013 FIS cross-country skiing World Cup.
In true Kiwi spirit a small army of 400 volunteers will ensure the success of the Games.
For the first time in 2013 the Winter Games will be broadcasted on free-to-air TV in NZ. There will be daily highlights shows plus news features on TV3 and online.
Winter Games NZ chief executive Arthur Klap said the level of coverage in 2013 was unprecedented.
"Our partnerships with IMG Media and MediaWorks will give winter sport in New Zealand its highest ever profile and cement the Games' profile as one of the world's top five winter sports events," he said. "This is absolutely critical for building a permanent legacy for the Games in terms of assisting the development of young New Zealand athletes. Winter Games NZ provides them with world class competition."
There is hope that the Winter Games will build a lasting legacy in NZ. The organisers are working with Snow Sports New Zealand and other partners to develop young talent and build a legacy for winter sport in Otago and across New Zealand.