NZ pro riders have depth in the razzle-dazzle winter sport and want to have fun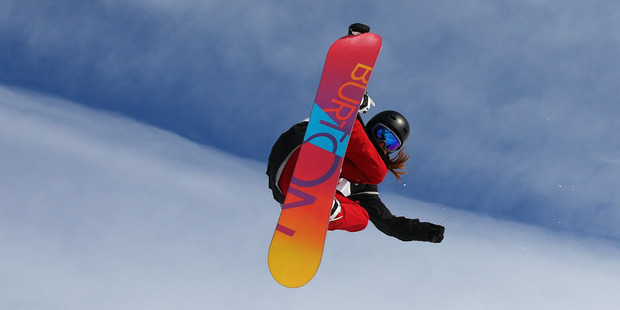 New Zealand has emerged as a force in the world of snowboarding.
Auckland's Christy Prior, 24, has led the way for the women in slopestyle, climbing to No4 in the world. And she now has company.
Two other Kiwis, Wanaka's Stefi Luxton, 21, and Ohakune's Shelly Gotlieb, 33, are ranked sixth and 13th respectively in the discipline. Add in Te Puke's Rebecca "Possum" Torr, 23, who is No41 on the world rankings and the Kiwi pro riders have depth in the razzle-dazzle winter sport. They can't wait to put on a show on home turf in the annual Winter Games in Wanaka to show "how amazing we are at our sport". We caught up with Gotlieb, Luxton and Torr to talk about their day job which is all about having fun.
Q: How did you first get into snowboarding?
SG: I grew up in a ski town and was fortunate enough to have parents who got me into the snow sports. I skied for a long time and then got into snowboarding in my teens and never looked back.
SL: I grew up in Wanaka so having mountains in my backyard was definitely the biggest influence on my snowboarding. I skied until I was around 14 then switched to snowboarding and have been doing it ever since.
RT: As a family we used to go down to Ruapehu once or twice a year to go skiing, my brothers and sisters switched to snowboarding one year and I since I'm the youngest, I wanted to do everything they did so I naturally made the transition.
Q: What is the art of slopestyle?
SG: Slopestyle is a creative discipline. Each course or park changes and you get to put your style and skills into each run you do. To be good at slopestyle you need to adapt to the environment while having the most fun and doing the hardest tricks you can ... with style.
SL: Make sure you're having the most fun.
RT: To learn to enjoy and manage the fear.
Q: What are your favourite tricks to perform?
SG: I love to jump so anything in the air is my favourite. I love to back flip, it's great to be upside down ... and if you're lucky twice around.
SL: Back 7 [Backside 720 - trick where the rider spins 720 degrees, or two full rotations].
RT: My favourite trick at the moment is a switch front-side 720. The best thing about what we do is the freedom to change your favourite tricks and learn new ones.
Q: NZ has three snowboarders in the top 13 in the world, why are we so good at slopestyle?
SG: We have great facilities. Cardrona has a great slopestyle course so I can learn and develop my tricks every day I ride. I grew up riding Mt Ruapehu so I have an element of extreme in me. I love the terrain and jumping off things so it's natural I turned into a slopestyle rider.
SL: We base ourselves in Wanaka in the winter and Breckenridge [Colorado] in the summer so snowboarding year round definitely helps. Also, the support we get from the team is awesome.
RT: We are lucky in NZ to have amazing facilities so accessible. We all started doing what we do because we are passionate about it and this is why we continue to do it.
Q: Do you guys train and compete together to push each other? Are you really competitive?
SG: We are lucky to have an amazing group of girls who are the snowboard slopestyle riders. We are great friends, ride, train, party, compete and have fun together. I'd say we are competitive but not against each other, more against ourselves. I always want to do the best I can and am hard on myself if I don't reach my goals, regardless of where I or others place, I just want to walk away happy.
SL: We ride together pretty much every day helping one another out. The competitive side of it doesn't get to our friendship. We just support each other on and off snow ... it's cool.
RT: I think we work together so well because we are all great friends and love to ride together, we are all genuinely stoked for each other when we each succeed and we are all motivated by each other when we are pushing it and doing well. There is friendly competition between us but at the end of the day it's an individual sport and it's up to the individual alone to perform.
Q: How often do you train and what do you do?
SG: I usually only have a few months off the snow a year so I pretty much live in endless winter. I ride/train daily and have as much fun while progressing as we can.
SL: I snowboard so often just because I love it. I usually ride five-six days a week not because I have to but because I want to.
RT: I ride every day the weather is co-operating. I'm just stoked to go out there and do what I love every day. I also train a lot in the gym to keep fit and strong to avoid injuries as much as possible.
Q: What is it like competing in a Winter Games on home snow?
SG: Winter Games is always a fun event. Cardrona always put on an awesome competition and it's great to have the New Zealand media attention so "non-snow" people get a chance to see what we do and how amazing we are at our sport.
SL: It's really exciting having support from the home town. Hopefully I can do everyone proud.
RT: I'm super excited to compete here at home. I'm stoked to have the home crowd behind us supporting the Kiwis. It's also super fun to have all our competitors from all over the world here to ride with us on our home turf. The course is world-class and definitely one of the best courses we have come across on the World Cup circuit.
Q: What are your long-term goals in the sport?
SG: I always want to be progressing - bettering myself while having the most fun. I will always have my eyes on the podium at every event I attend but the Olympics are where I'm definitely looking to be standing in 2014.
SL: I like competing at this stage so I'll probably do that for a while. X Games, Olympics, Dew tour, US Open etc.
RT: I want to see what I can do to push myself every day. I want to take every opportunity that comes along. And I definitely want one of those medals [laughs]. But most of all I want to inspire people to go after it and chase their dreams.
Q: What advice do you offer to young women looking to get into snowboarding?
SG: Give it a go! Ride with people that are better than you, you will learn so much and it's great for your riding to have to keep up with the group. Don't feel bad if you're slow, soon you will be ripping around with the rest of them.
SL: Snowboarding can take you to so many amazing places so get out there and do it. You never know what can happen.
RT: Have fun! Try something new every day and if you put your mind to it you can do it.
Slopestyle
When: Tomorrow-Monday
Where: Cardrona Alpine Resort, Wanaka, Queenstown Lakes, Otago
For more information visit: www.wintergamesnz.com
Women's world rankings
1. Sarka Pancochova (CZE)
2. Jamie Anderson (USA)
3. Silje Norendal (NOR)
4. Christy Prior (NZL)
5. Spencer O'Brien (CAN)
6. Stefi Luxton (NZL)
7. Enni Rukajarvi (FIN)
8. Silvia Mittermuller (GER)
9. Kjersti Ostgaard Buaas (NOR)
10. Ty Walker (USA)
11. Aimee Fuller (GBR)
12. Karly Shorr (USA)
13. Shelly Gotlieb (NZL)
Also:
41. Rebecca Torr (NZL)
Winter Games
When: August 15-25
Where: The international resorts of Coronet Peak, Cardrona Alpine Resort and Snow Farm, along with the Maniototo Curling International Rink.