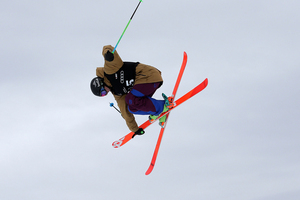 Wanaka residents Lyndon Sheehan, Beau-James Wells and Janina Kuzma have given New Zealand a strong presence in tomorrow's World Cup freeski halfpipe finals at Cardrona.
Pick of the bunch was 25-year-old Sheehan, who produced a terrific performance to qualify with the second-best score of 85.6 over his two runs, trailing only the classy Canadian Mike Riddle, who bagged an 85.8 on the opening day of free skiing at the Winter Games.
The withdrawal of the two oldest of the four Wells brothers, Jossi and Byron, took some of the hometown gloss off the event, but 17-year-old Beau-James ensured a family presence in the 12-strong final.
Wells registered a best qualifying score of 81.8 to achieve the eighth-best mark of the finalists.
The final field also includes three Americans, two Canadians, two Frenchmen, a Finn, a Swiss and Peter Crook from British Virgin Islands.
Riddle, ranked third in the world this year on the halfpipe and world champion for overall freeskiing in the 2011-12 season, looked in strong form and will be hard to topple.
However the skiers start with a clean sheet in the final, meaning the 12th-ranked qualifier, Frenchman Nicolas Bijasson, has the same chance as Riddle.
In the women's event, world No 11 Kuzma did a good job to qualify with the sixth-best score of 75.6. The other New Zealander in the field, Sam Poots, finished 20th overall.
The Sheehan family should be preparing for a good day. Lyndon's sister, Amy, who represents Australia, nabbed the 12th qualifying spot.
In a high-scoring day for the women, American Angeli Vanlaanen was top qualifier with a score of 91.0.
New Zealand are hoping to send a team of between 15 and 20 athletes to the Winter Olympics in Sochi, Russia next February.
The country has secured 11 quota spots including four in the men's freeski halfpipe, and are hoping for a further five, primarily in the freeski and snowboard slopestyle events, and one more in the women's snowboard halfpipe.
The maximum number of athletes New Zealand can field in any event is four while there is a cap of 14 athletes in the park and pipe disciplines.
"The bar has been raised," Winter Performance Programme director Ashley Light said.
"It's now the 50/50/50 formula. Athletes must compete in half the available qualifying events, and finish in the top half of the field half of the time. That is a step up from where we were ahead of the Vancouver Games (in 2010)."
The identity of the athletes to fill the quota spots remains unclear.
New Zealand hope to have a curling team in Sochi, although the Winter Games aren't a qualifying event for that sport.
Some athletes whose sports are not on the Winter Games programme are strong chances for selection, such as skeleton racer Ben Sandford (aiming for a third Games), and skaters Shane Dobbin and Blake Skjellerup.
Selection for the ice sports will end in December; park and pipe deliberations will conclude in January.

WINTER GAMES
World Cup halfpipe
(Cardrona)
Men's final qualifiers: M. Riddle (Canada, best score 85.8) 1, L. Sheehan (NZ, 85.6) 2, J. Dorey (Canada, 85.0) 3, A-J. Kemppainen (Finland, 83.5) 4, T. Krief (France, 83.0) 5, T. Seaton (US, 82.6) 6, A. Blunck (US, 82.0) 7, B-J. Wells (NZ, 81.8) 8, P. Crook (British Virgin Islands) 80.6 9, Y. Lerjen (Switzerland) 79.8 10, A. Ferreira (US) 79.2 11, N. Bijasson (France) 77.6 12.
Women's final qualifiers: A. Vanlaanen (US, 91.0) 1, A. Onozuka (Japan, 88.0) 2, N. Ragettli (Switzerland, 85.2) 3, A. Caradeux (France, 80.6) 4, D. Logan (US, 79.2) 5, J. Kuzma (NZ, 75.6) 6, A. Drew (US) 74.4) 7, J. Crane-Mauzy (US, 71.2) 8, M. Stout (US, 69.0) 9, M. Jaeger (Switzerland, 68.2) 10, K. Aerts (Belgium, 68.0) 11, A. Sheehan (Australia, 67.6) 12.