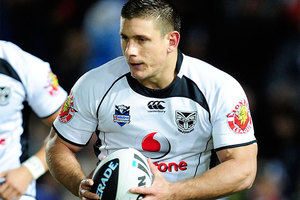 Jacob Lillyman has pretty painful memories of his NRL debut when his Cowboys side conceded 60 points to a rampant Knights outfit in 2003, but the Warriors' record defeat to Penrith this season still ranks as the worst.
The Warriors were humiliated 62-6 by the Panthers in May in a result that prompted crisis talks and widespread criticism. It was one of the lowest points in the club's history and saw fans question the players' commitment and wonder if Matt Elliott was the right choice as coach.
It also prompted a remarkable turnaround as they went on a five-game winning streak and eventually won seven out of eight to put them on the cusp of the top eight.
Retribution is not high on their list when they take on the Panthers at Mt Smart Stadium on Sunday because keeping their playoffs chances alive is more powerful motivation. But it still looms as a chance to try to atone for what happened in round 10.
Many in the club can now look back and say that heavy defeat was actually a good thing.
"I've often said that, as bad as it was, it was the kick up the bum we needed,'' Lillyman said. ``We were dropping games in the last 10 minutes. We just lacked something. I think that was the spark that made everyone finally man up and do something about it. Looking back, although it was very painful, it was probably something we will look back on as a good lesson.''
They have banked some other valuable learnings over the past couple of weeks with defeats to Cronulla (18-14) and Manly (27-12). They were flat against the Sharks and powerless to stop a Sea Eagles side who have now won their past six games.
They have a good chance to arrest their slide against an injury-hit Panthers outfit that's in freefall. Ivan Cleary's side have lost their last four by a combined margin of 148-32 and it has led to suggestions they have already parked their 2013 campaign and are looking ahead to next season.
"If we get diverted by that sort of talk we'll get our pants pulled down again,'' Elliott said. ``They are like any NRL team, they're highly capable. If you don't play your best footy, they'll burn you.
"I think the Bulldogs learned that on Monday night against the Titans. You could see a team go out there with an expectation of how the game would roll. It didn't roll the way they wanted it and they lost their way. That match for me sums up the NRL. If you go out there with an expectation that the team's not at their best you're going to lose.''
Lillyman believes he's been below his standards in the last couple of weeks, although he ran for 132m against the Sharks (he averages 100m a game), and has felt flat. It is often difficult to sustain intensity week after week but the Warriors are at a point in their season when losing isn't an option if they want to play on in September.
"What has happened is that we were up for so many weeks and performing but we hit a flat spot and dipped a bit,'' Lillyman said. ``But our backs are against the wall now so we have to turn it around.''
- APNZ