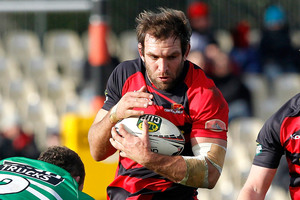 One name is missing from Canterbury's team sheet for tonight's game against Taranaki.
Flanker George Whitelock has been given a rare week off as the Cantabrians start their ITM Cup campaign at AMI Stadium in Christchurch.
Since 2008, the 27-year-old has notched 59 appearances for Canterbury and has only missed a handful of games along the way.
Considering the huge minutes he normally plays and the nature of his position, it's a remarkable run of durability that certain players around the country would yearn for.
"I'm not sure what it is," he said. "I'm just going through a good patch and the body seems to be feeling really good so I haven't tried to change a lot and it seems to be working. So, touch wood it continues."
His ironman run has extended to the next level too. During the past three seasons he has only missed one Super rugby contest for the Crusaders when he was given a brief spell in round five against the Cheetahs last year.
His rare stint in the stands allowed his youngest brother, Luke, to borrow his No6 jersey for the week but it was the exception rather than the rule.
Canterbury have been the undisputed kings of provincial rugby since 2008 with an unprecedented five consecutive titles and Whitelock has been there for every one of them.
The skipper said donning his suit and watching tonight would be a foreign concept but he would be available for selection from round two.
"It will be very funny but at the same time the way I'm looking at it is I've spent this week just doing a few things that I wouldn't usually do in terms of body preparation so that's been the whole plan."
Whitelock will again be joined in the Canterbury squad by his brothers Sam, Adam and Luke, although Sam is unlikely to be sighted in the ITM Cup because of his All Black commitments.
George said there was a friendly rivalry among the group, particularly with fellow forwards Sam and Luke, which might be the reason behind their high tackle counts.
"It's always a big competition to see who made the most tackles. It's always been a rivalry growing up. We always pride ourselves on the workrate tactic and that probably reflects in the way we play. So there's definitely a rivalry in that respect."
Whitelock, a former national age-group captain, still holds ambitions of adding to his sole test cap, which he collected in 2009 when he scored a try off the bench in a 27-6 win for the All Blacks over Italy in Christchurch.