As nuts as it sounds, this might be the best chance for the Wallabies to win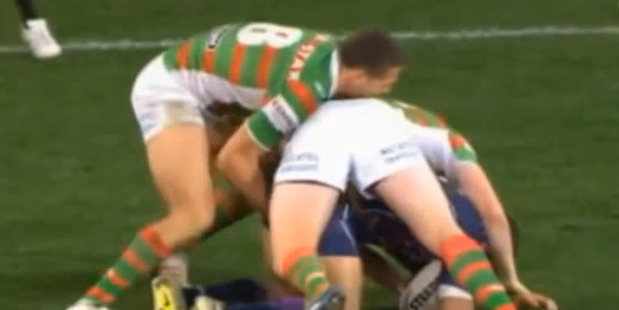 If the Australians needed further metaphorical motivation for tomorrow's opening Bledisloe test against the All Blacks, they could have found it in the lobby of their swanky downtown Sydney Hotel in the form of a glass ceiling and a Vera Wang bridal shop.
The first, surely, a reminder that this team needs a breakthrough, and the second, that for the past 10 years of Bledisloe battles the Wallabies have played bridesmaids to the All Blacks on every big occasion.
The team seems genuinely excited. After all, everyone wants to impress the new boss. As for the old one, Adam Ashley-Cooper was happy to tell the gathered press that they have moved on quickly. So much for a messy divorce.
As for Sydney itself, the Otamatea Repertory Theatre could generate more hype for tomorrow's matinee performance of Seussical than the Harbour city seems capable of mustering for this test. That much was obvious on Tuesday when South Sydney league star Sam Burgess was the back cover paper star for his, um, "squirrel grip" on the Melbourne Storm's Will Chambers.
That a man grabbing another man's testicles should rate a bigger mention than Ewen McKenzie's first test in charge shows just how far below the belt ... er ... radar, rugby remains in Australia.
Mind you, there's a lot of nuts going on in Australian sport: Benji Marshall's busting a nut to convince Tigers' fans that he still cares about the club; James Hird's doing his nut over the Essendon PED charges; Stuart Broad went nuts to destroy the Australian batting order in the fourth test - no wonder Burgess went for the reach-around.
A snap poll received the following responses to the question of who might win tomorrow night: The Cats, 5 per cent; The Dragons, 18 per cent; Who's playing? 24 per cent, the All Blacks, 51 per cent; and Kevin Rudd, 2 per cent. I asked Daily Telegraph writer Iain Payten what he had to do to get a rugby story on the back page of his paper. "A handful of nuts should do the trick," was his reply.
See? It's contagious.
Meanwhile, Ewen McKenzie spied me in the lobby. "Are you here to spy on us?" he asked. I said, "No, that's our Government's specialty." We sat and talked. The great thing about Link is when he doesn't want to tell you something he turns his voice down to just below "lobby atmos" level so even though you are sitting directly in front of him and looking him straight in the eye, it is impossible to hear anything other than individual words at intervals of up to three seconds.
"Exciting... Toomua... Surprised... Powder... opportunity... seven... cappuccino." He is a stealth conversationalist.
Without any claims to accuracy, I think he was saying: "It's actually very exciting and guys like Toomua have certainly come into the camp and surprised me but I won't tell you anything because I am keeping my powder dry for this one. It's a great opportunity for us. You want a $7 coffee? Make mine a cappuccino."
Words like "exciting" and "opportunity" have been thrown about like Showgirls dollars at 3am this week, so it was refreshing when James Slipper, in the unenviable role of spokesman for the Australian front row, went about adding to rugby's ever-expanding collection of portmanteaux with the brilliantly conceived "dramastically".
Of some concern to the guardians of the English language, if not the All Blacks, the Wallabies scrum, according to young James, has not not changed dramatically, and it has certainly not changed drastically. Things have, in fact, not changed dramastically. That a neologism was required to explain the new scrum interpretation is a worrying development ahead of this test.
All things considered, this may well be Australia's best chance to the beat the All Blacks this year. Captain James Horwill knows how important home advantage will be tomorrow.
And it's not as if that chance is no chance - that chance is a great chance. Maybe this is the day the Bledisloe bridesmaids finally have their big day.
And wouldn't that be dramastic?
Well, it would certainly be nuts.
The Kauri and the Log
While the Aussies are desperate to get their hands on the Bledisloe Cup tomorrow in Sydney, the Taniwha are hoping to end a 34-year Ranfurly Shield drought when they face Waikato in Hamilton. The Taniwha have been cursed since refusing challenges against Otago and Southland in 1978. Their last run ended the next year and they haven't seen the log since. This will be just the fifth Shield match between these teams and the Mooloos are 4-0.
Tough to get a bite
The Makos might well have the toughest time getting a crack at the log this year. Consider this: just to get a challenge they would need Northland to beat Waikato then see off challenges from Southland and Wellington before they have a go. If Waikato defends tomorrow, Tasman would need Otago to win next up, defend against Hawkes Bay, lose to Manawatu, who would have to defend against Taranaki. Of course, if Waikato wins tomorrow and defends against Otago but loses to Auckland - oh forget it, I give up.
Yes they Can-terbury
It's often been unfairly suggested that certain folk in the Canterbury region are capable of "high-sixing" each other and that could come in handy with the red and blacks setting their sights on six straight titles ahead of their opening game tonight. What makes them so good? Last year they scored the most, passed the most, broke the line most, offloaded the most, scrummaged the best, missed the fewest tackles and lost the least ruck ball. Oh, and most of their squad is back.