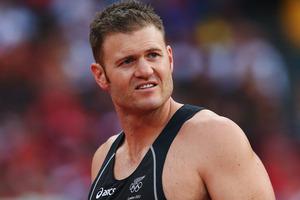 Heartbreak for 800m runner Angie Smit but satisfaction for javelin thrower Stuart Farquhar at the track and world championships.
Smit missed out on the semi-finals by one place in her world championships debut while three-time Olympian Farquhar qualified 10th out of 12.
For Smit, her time of 2m 00.60s was 16th fastest but the 17th placed runner, Brit Laura Muir, finished third in the second heat of four; the top three in each heat were guaranteed qualification.
Smit's effort was 0.57s outside her personal best set at the University Games in Kazan, Russia last month.
The result also means she misses out on a possible performance enhancement grant from High Performance Sport New Zealand. A 16th place would have helped get her funding to train for the Commonwealth Games in Glasgow next July.
"My goal was to make the semi and break two minutes. I didn't do either," an emotional Smit said. "I gave it everything. I don't think I did anything wrong, although I ran quite wide. With 100m to go my legs were completely gone. It's disappointing but then it's my first world championships so I'm happy to be here."
Smit, who turns 22 tomorrow, says part of her motivation was to compete against the top names in the discipline.
"There were top girls who I've seen at the Olympics, ones I really look up to. I had to think, 'right, rather than looking at them in awe, I deserve to be here'."
Smit said she'd had great support from her coach Maria Hassan (who has coached her since she was 13), her parents, her boyfriend Sam Petty (an English 800m runner) and God (who'd given her strength).
Farquhar produced a best throw of 80.73m which placed him seventh amongst the first group of throwers. Only three others bettered his mark in the second group.
He missed the guaranteed qualification mark of 82.50m so had to wait for the second group to finish. Farquhar will throw in the final on Sunday morning (New Zealand time).
"I felt good out there, I warmed up well and the first throw was spot on," Farquhar said. "However I clipped my boot as I came through which put me out of rhythm. The timing was out on the next throws. I did my best but I'm gutted as well. Training has been good and I'm peaking at the right time. I'm disappointed because I should have got over that [automatic] qualifier mark."