Olympics beckon rider and qualifying for a freeski event will get her there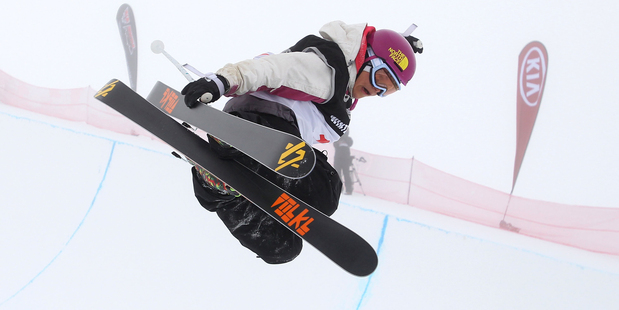 The Winter Olympics are on the horizon, but Janina Kuzma remains a big mountain girl at heart.
However, the lure of an Olympic campaign has prised her away from her primary activities and she's a strong chance to represent New Zealand in Sochi next February in the freeski halfpipe.
Kuzma has her qualifying event in the Winter Games at Cardrona today and ranked No 11 in the world - the top 25 are sure of places in Russia, plus New Zealand has qualified one spot in the discipline through the quota system - her prospects are strong.
She rates opting not to contest the Freeride World Tour this year "probably one of the hardest decisions" she has made.
"All my core sponsors are because I'm a free rider, and because I'd just qualified for the tour, which is hard to get on.
"But the Olympics have always been my dream. I can ski the halfpipe so why not give it a shot."
Kuzma has packed a pile of living into her 27 years. Born in Brisbane, her father's work took the family to Papua New Guinea for three years. However, a rebel war in Bougainville forced a shift to Indonesia, where she lived for several years, before going to boarding school in Brisbane.
The whole family, including talented snowboarder Maria, are now in New Zealand; she insists she's a Kiwi.
Kuzma's love of high altitude means the Olympic campaign is a temporary diversion from her snowsports preference, such as leaping off rather tall mountains.
Versatility is a key to her game. In 2009, she became the first woman to win both the Big Mountain and halfpipe titles at the NZ Open.
She's also won two world heliskiing challenge titles; six times she's been New Zealand freeski big mountain winner; was New Zealand Snowsport athlete, and freeskier of the year in 2011, the same year she finished third overall on the FWT.
Check out her run for third at the Verbier Extreme in Switzerland in 2011 on You Tube to get a sense of what she does for her day job.
"That's such a prestigious event and if you make the finals it can really make your profile so much bigger, especially in Europe," she said. "It's crazy. Thousands come to watch and it's such a scary face. You're 2km away looking through your binoculars trying to pick your line and it's 60 degrees steep and you've got to know where you are.
"It's just so different to what I'd ever done."
She broke her back later that year at Copper Mountain in the US and, after a faulty initial diagnosis, kept skiing in considerable pain. It wasn't until she got home and had it x-rayed that the full extent of the injury was apparent.
Kuzma, studying for a Bachelor of Communications through Massey, knows small margins cover a large group of top-class athletes. This is not an event like, say, men's tennis, where a small coterie of top-end players dominate. Kuzma is among that group.
"A lot of girls have got the same tricks. It's just about who executes the best on that day," she said. "At the worlds [in March], even though I came 9th it really showed the possibility of making the finals in Sochi and I want to podium."
So fast forward to Sochi. Kuzma is poised on the start. Does she take chances or play it safe?
"It depends on the day and whose competing.
"There are days when you might go up and it's foggy and no one's going to throw their big tricks.
"I don't go out and do silly things. I've really learnt how to be tactical and see what's going on."
Right now, Kuzma is feeling healthy and strong and believes she's in prime form - "throwing new tricks and learning every day".
Speaking of tricks, her favourite is ...
"A right flair".
And that is..?
"You go up the pipe, right through the lip and slip sideways to the right and go around once.
"That's what I broke my back on but I have got the hang of it finally."
Olympic champion Pole sprints to golden glory
Poland's Justyna Kowalcyk and American Andy Newell won titles on the opening day at the Winter Games in Wanaka yesterday.
Kowalcyk's win in the 1.6km sprint was no surprise. She is a defending Olympic champion and won the World Cup sprint final in Stockholm last March and the Nordic world championship 10km title. She clocked 3min 27.25s in the prologue and was clearly the best athlete in the women's field.
She headed home Daria Gaiazoa, of Canada, and Slovak Anastazia Kuzmina, the 2010 Vancouver Olympics biathlon sprint gold medallist, in the final. New Zealand's Sarah Murphy, who also contested the biathlon in Vancouver, finished seventh.
Olympian Newell, from Vermont, won a tighter men's race. He was fastest in the prologue, recording 2:52.96, won his semifinal and completed the job in the final.
Russian Alexey Petukhov, bronze medallist in the Vancouver Games, took second with Canada's Devon Kershaw third. Defending Olympic champion Nikita Kriukov finished fifth.
"It's good to get on snow following summer training and the results let me know that my training is going well," Newell said.
An enthusiastic, cowbell-laden crowd was on hand for the opening event of the 11-day Winter Games programme.
The top eight in each event raced in semifinals of four athletes, with the first two across the finish in each progressing to the final, irrespective of fastest times.
The action moves across to Cardrona today for qualifying in the World Cup freeski halfpipe. However, New Zealand's interest has been slightly depleted. World No2 overall freeskier Jossi Wells has withdrawn from the event to concentrate on the slopestyle discipline later in the Games, and one of his brothers, Byron, has withdrawn from both events with an injury.
Three events to check out
Snowboard halfpipe
Qualifying August 22, finals August 24, Cardrona
The complete podiums from the Vancouver Olympics are contesting the event. The field is top class. The men's trio is headed by perhaps the most celebrated of all snowboarders, American Shaun 'Flying Tomato' White, along with fellow American Scott Lago and Finland's Peetu Piiroinen. The women's medallists, Australian Torah Bright, and Americans Hannah Teter and Kelly Clark, will be strong winning chances. Watch out for New Zealand's Rebecca Sinclair, Olympian four years ago and a good chance to qualify for Sochi in February.
Freeski slopestyle
Qualifying August 23, finals August 25, Cardrona
Check out New Zealand's best, Jossi Wells, squaring off against the only skier ranked ahead of him in overall freeski standings, American Gus Kenworthy and third-rated Swede Henrik Harlaut. To round things out, how about American Tom Wallisch, Briton James Woods and American Nick Goepper, who finished 1-2-3 at the slopestyle world champs in Norway in March, and are fifth, third and first respectively on current world rankings. Oh yes, there are 11 New Zealanders listed to start, including three Wells brothers. The world's three top-ranked overall women freeskiers, Norway's Tiril Sjaastad-Christiansen, and Americans Jamie Crane-Mauze and Keri Herman will ensure a thick layer of high class on their event.
Men's adaptive slalom
Qualifying August 22, finals August 23, Coronet Peak
All eyes will be on New Zealand's Adam Hall, gold medallist in the event at the 2010 Paralympics in Vancouver. None of his closest rivals from that event are listed to start. He's looking to nail a trip to Sochi. The women's field includes world No 5 Jade Etherington of Britain and American 12-ranked Staci Mannella.