Our man in Moscow has spent the week avoiding officious bureaucrats, yarning about the Beatles and Deep Purple ... and watching the world's best athletes. These are some of his lasting impressions.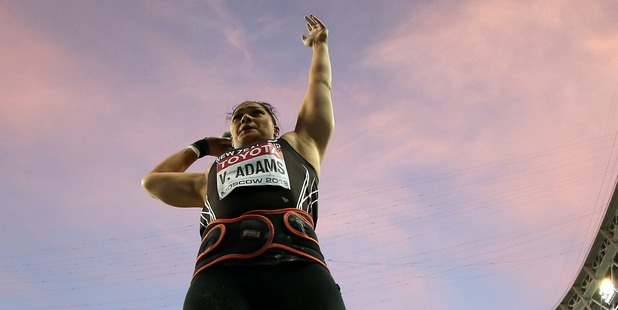 Red Square
You feel dwarfed by history. Lenin's mausoleum lingers to one side, with Vlad's Kremlin. The extortionately priced Gum shopping mall is opposite. The square is flanked by St Basil's Cathedral where Ivan the Terrible allegedly blinded the architects after its creation so they couldn't recreate the achievement elsewhere. Troops used to march from here when Moscow was under siege during World War II.
Hordes of tourists make their way in, led by characters holding lollipops above their heads. Lenin and Stalin impersonators make a quick buck at the entrance, although if someone had pulled that sort of capitalist stunt during the Soviet monopoly era it would have been straight to the gulag without passing go. The authenticity comes under threat when Lenin starts yakking on his cell phone.
Empty Olympic Stadium
The World Cup sevens served as a warning with its barren yellow, orange and red seats.
But surely the glamour of the world championship 100m final would pack them in? In short, no.
The crowd generally showed the enthusiasm of a cadaver until local pole vaulter Yelena Isinbayeva brought them alive.
Luzhniki Stadium was probably at around 80 per cent capacity on Tuesday night but morning sessions have been woeful. As a rough guide, the cheapest adult ticket to the athletics is about 18 per cent of the average Muscovite's weekly wage. The comparable figure for a New Zealander to attend the upcoming South Africa rugby test at Eden Park is about 11 per cent.
International Olympic Committee president hopeful (and pole vault world record holder) Sergey Bubka is part of the organising committee.
What does he blame it on? Summer heat. "[Muscovites] always go to their dachas [holiday homes]. Maybe some people bought tickets and didn't attend." Maybe track and field is of little interest, Sergey?
The real hosts
Robotic dullards might inhabit shops, offices and security in addition to the chilling Irma Bunt doppelganger marshalling journalists at the stadium, but volunteers generally offer enough goodwill to suggest there is hope beyond communism, barriers and bigotry.
An example occurred while collecting accreditation. A little knowledge of schoolboy Russian went a long way. After exchanging zdrastvuite (hello), the team went about establishing my profile. They prised out the fact I am more of a fan of the Beatles than Deep Purple. They asked for a favourite song and I opted, rather cheesily, for "Back in the USSR".
A photo was snapped for my pass and I was presented with a glossy diploma, which predicted: "In recognition and appreciation of your contribution to the success of the IAAF world championships Moscow 2013." We all beamed in solidarity. That'll go straight to the pool room.
Val Adams
Adams' fourth world championship title, a record for any male or female shot putter, reinforces her place as a New Zealand athletics great.
Her bear-hug of the dapper chap presenting her medal, causing him to recalibrate his carefully tied double Windsor knot and unruffle his blazer, was a hoot.
She even came prepared with messages written in vivid on her palms. The right had 70th birthday wishes for beloved coach Jean-Pierre Egger; the left said "Thank you, Russia". It was a poignant touch as she stood on the dais listening to the national anthem, an honour denied by drugs cheat Nadzeya Ostapchuk at the Olympics.
The significance was not lost on Adams: "Tonight shows kids out there that we can do it clean. You've just got to work hard."
Her alternative message was clear too: "I'm just f***ing stoked"... And New Zealand blushed when Peter Jones said he was "buggered" after scoring the winning try to beat the Springboks in 1956?
Yelena Isinbayeva
Few athletes retire on their terms. Isinbayeva might. She's labelled her break - during which she intends to become a mum - as temporary. Even at 31, the roar of the crowd may be too intoxicating to resist. Her theatrics before clearing 4.89m have been the highlight. She spent the majority of the competition with her head on a rolled-up towel and feet propped on the athlete seating area as if relaxing at a Black Sea resort.
The casualness was deceptive. She knew where every camera was, teased out the anticipation before each jump, blew kisses at the crowd and cartwheeled on her victory lap, showcasing the skills which planted her in pole vault aged 15 because she was deemed too tall for gymnastics at 1.74m.
She's a woman of the people. At my local, Zhiguli (okay, it's about 2km away), they lapped up the replay over pints and cabbage-stuffed pita bread the following day.
Usain Bolt
He keeps performing under immense pressure, although his 100m celebration after running 9.77s seemed to lack its usual spark. In the current climate, where drugs cast a shadow, Bolt's ability to back bravado with performance can't be underestimated. Maybe the abysmal crowd to see a pinnacle event on the sporting calendar diluted the sense of occasion for him - Russians couldn't be bothered turning out, so Bolt couldn't be bothered turning it on.
Rain didn't help, but AFP photographer Olivier Morin's photo of a lightning bolt striking the sky as Bolt crossed the finish line will remain the indelible image of these champs.