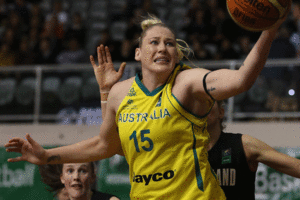 New Zealand 50
Australia 66
The Tall Ferns will need a miracle to qualify for next year's Basketball World Cup after Australia demonstrated their dominance on the North Shore tonight.
New Zealand were always against the odds in the opening game at the Fiba Oceania Championship, with their outmatched roster further hindered by an abridged preparation.
And the world No 2 Opals illustrated just how wide the gap is between the two sides, running out 66-50 winners at the North Shore Events Centre.
Australia were on paper several steps above the hosts - and that was before Lauren Jackson entered the equation. Despite being sidelined through injury for the last nine months, Jackson showed here undoubted quality and led all scorers with 22 points.
It could have easily been more had one of the world's best ever players stepped on the accelerator.
Jackson had a field day in the post, with her 1.96m frame providing an easy target for her teammates' passes, and her nine rebounds were also a game-high.
Jackson's mere presence should prevent the Tall Ferns from turning the tables in game two in Canberra on Sunday. That they will need a 17-point victory to secure the series seems a pipedream.
Jackson provided an early sign of what was to follow, taking advantage of New Zealand's seriously under-sized interior to lay in the first points. Jackson probably could have continued to post up and reap the rewards for the rest of the game, but she also showed her touch from range in draining the game's first three-pointer.
The three-time WNBA most valuable player scored seven of Australia's first nine points as they opened up an early buffer and it was no coincidence the Tall Ferns came back into the contest when she took a spell on the bench.
While New Zealand lacked size, their guards were more than the measure of the visitors' and co-captain Toni Edmondson particularly impressed in the opening half, even successfully driving on Jackson on a couple of occasions.
The Tall Ferns were shooting poorly - aside from Edmondson who had 11 points at the half - but managing to stay within touch of their illustrious opponents, going to the major break 34-26 in arrears.
But the class of the Opals always threatened to shine through and that's just what happened in the first five minutes of the third. A 15-2 run virtually killed off the contest, with the Tall Ferns not exactly aiding their own cause by committing five turnovers to give Australia plenty of extra possessions.
The final quarter was an exercise on damage limitation for New Zealand, minimising the final margin to give themselves hope on Sunday. But that hope will only be real if Jackson misses the flight.
New Zealand 50 (Edmondson 18, Cocks 8, Craig 8)
Australia 66 (Jackson 22, Hurst 12, Tolo 8)
HT: 26-34
- APNZ