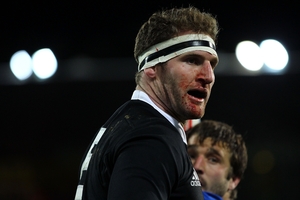 Heresy. Craziness. Madness. But in all honesty ...
This was actually the perfect time to hand over the All Blacks captaincy permanently to Kieran Read, a far more likely World Cup starter than Richie McCaw, who is hurtling into the sunset of his magnificent career.
No, this is not an attack on The Great One - I'm happy, delighted, honoured to worship at McCaw's feet as much as the next fan. But the All Blacks appear to be heading down the same dodgy track as the last World Cup, when they only paid lip service to preparing contingencies for McCaw and Dan Carter.
Read should at least have kept the captaincy for the Sanzar series, which begins with the All Blacks playing the Wallabies on Saturday.
Carter's injuries are giving the All Blacks an inadvertent World Cup leg up because Aaron Cruden is getting loads of test time that will prove to be invaluable by 2015. Carter may well have hit the the Jonny Wilkinson zone - that time in a rugby career when the mere sight of a footy stadium can set the bits and bobs holding the body together twanging like overstretched piano wire.
But it seems McCaw will hog the No 7 jersey from the word go, even when he's spent most of the year unfurling his tent around the world.
At least Steve Hansen could have left Read as captain for this year, let McCaw battle his way back like the next man, and make the captaincy decision after that based on the best available evidence.
Really though, this was THE moment, the time to hand over. A fair bet is that the World Cup will be a year too far for McCaw - the odds say that preparing Read for the task is the sensible option. It's not just about the World Cup either ... the elitist sabbatical business sticks in the craw, especially in the way McCaw has been fast-tracked back into not only the test team, but the captaincy, on virtually no lead up action.
The central contract system and the big bucks paid to McCaw and Carter are helping, or will help, to muddy the waters no doubt, but there was a time when All Black selectors weren't so entwined with the players. Either that, or they were a tougher breed. (Bring Back Buck and all that.)
Great coaches such as Sir Alex Ferguson and Wayne Bennett have made the tough calls on great players over the years but it is shaping as an area where modern All Black regimes - who otherwise excel in test player development - struggle to see the big picture. The in-crowd rules, and those favoured players ain't getting any younger. Hansen and co even had trouble axing a clearly struggling Ali Williams, apparently leaving the bloke to axe himself.
Wallabies mirth
Giggle, giggle. There are words out of Australia claiming the new scrum laws will help the Wallabies to become powerhouses in that area. Makes good pre-test copy I suppose. Next idea: a change of government will stop Quade Cooper's brain fades.
Honour Val in bronze
Another magnificent gold for Valerie Adams, and one that deserves bronze. A statue would be a fabulous way to honour the multiple Olympic and world shot put champion, to permanently reflect her place in New Zealand sport and life. The only Auckland sports statues (that I know of) are at Eden Park - those of Dave Gallaher and Michael Jones add a lustre to the place and are tactile reminders of the past. So let's honour other sports legends in the same way. Sir John Walker is another who deserves the statue honour. Perhaps Aotea Square would be ideal.
Better quality, please
A plea to Coliseum, the company with the major New Zealand broadcast rights for the English Premier League soccer. Please, please, please do everything you can to improve the picture quality of your internet coverage.
Hollow words on Ashes
Who said this? "I think we can take a lot of positives from that ..." The answer: just about every losing captain or coach these days, the latest being Australian cricketer Michael Clarke after his team slumped to a 0-3 Ashes scoreline against England. Considering Australia's glorious cricket past and fairly recent Ashes dominance, finding positives out of this series is an exercise in clutching at straws.
Short-changing Lomu
The public spat between Jonah Lomu and his former manager Phil Kingsley-Jones over a he-said, he-said financial dispute many years ago is pathetic. There's a formula for promoting sports books in this country that involves alerting scribes to at least one issue that will get decent media play. The trouble is, these marketing-driven issues can overshadow everything else. Lomu and his advisers are crazy for encouraging some tawdry nickel and dime dispute to become a major part of his extraordinary legacy.
Warriors to win
The Warriors are in another little slump but there's no way they can lose to the Panthers in Auckland on Sunday. The Panthers are demoralised by a run of losses, and the Warriors' motivation should be at a record level. This is probably a do-or-die game for their top eight hopes, and there will also be memories of the horrific 6-62 loss to the Panthers in May that need erasing. How on earth did that happen? Anyway, moving on ... coach Matt Elliott won't need to push any buttons to get the troops fired up - the early engagements will bring back horrible reminders to the players. Prediction: a big Warriors win. Despite two losses in a row and lying in 10th place, the draw suggests they are still in with a good chance of making the playoffs.
Too tacky for Marshall
Benji Marshall is blaming the Blues for his tacky video, whereby he farewelled his Wests Tigers fans while dressed in his new rugby franchise's jersey with four games still left in the NRL season. The Marshall many of us have witnessed and admired from afar always seemed a stronger individual than that.