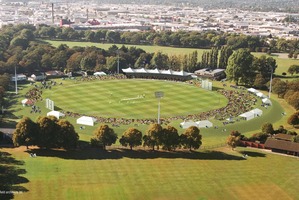 Canterbury Cricket has received a provisional green light for its Hagley Park development at the ground listed to host three World Cup games in 2015.
Christchurch is to host the tournament opener, between New Zealand and Sri Lanka on February 14, plus games between Pakistan and the West Indies, and England and a qualifier, but first needed approval from the Environment Court for its plans to build a stadium in the heart of one of the city's most popular pieces of parkland.
In a statement, CC says it is "delighted" with the outcome of the court decision. However it said it will need to study in detail the decision and work through conditions which Judge Jane Borthwick has put in place to assess implications for the development.
Conditions listed by the court include:
+ No more than two fixtures exceeding 12,000 spectators may be scheduled in any three-year period;
+ No more than 13 match days allocated to major fixtures within any cricket season;
+ The total number of days that temporary structures and facilities associated with major fixtures may occupy the oval are not to exceed 40 days a season;
+ Two or more major fixtures may be scheduled in the same week, provided on each occasion the total number of days that temporary facilities may occupy the oval shall not exceed 14 consecutive days;
+ Light headframes are to be removed at the end of each cricket season.
"This decision is positive not only for hosting cricket World Cup but also for the sport and our city in future years," CC chief executive Lee Germon said.
CC needs to get a lease from the Christchurch City Council for the proposed pavilion and light towers, but that is expected to be a formality.
Germon said if the conditions listed by the court were discussed in the process of Canterbury's proposal during the court hearing then "we know they are manageable".
However if they are amended, or fresh conditions "we need to work through these to determine the impact on the project".
The February 2011 earthquake removed Jade Stadium as the city's premier cricket and rugby venue.
While rugby is back up and running with the hastily constructed AMI Stadium in Addington, cricket has missed out on prominent occasions in the last two and a half years.