Rollercoaster gave record crowd a treat.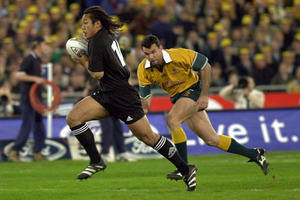 If ever a test had lived up to its hype it was this one; a rollercoaster of a thing described variously as the "greatest ever played" and the "match made in heaven".
Wallabies skipper John Eales called it the most amazing game of his career and he was on the losing side.
The scene of battle was almost as important as the test itself. It was the first match to be held in what was then called Stadium Australia, the venue for the then recent and very successful Olympic Games.
Crammed into the stadium were almost 110,000 people, a crowd which remains a world record for an attendance at a rugby test.
They certainly got their money's worth, and early.
Tana Umaga scored the first try after only 90 seconds, an act followed by two more from Pita Alatini and Christian Cullen, the All Blacks racing out to an incredible 21-0 lead after only five minutes.
An Andrew Mehrtens penalty made it 24-0 with nine minutes gone, and back came Australia, then the world champions, to somehow level the score 24-24 after 31 minutes.
All Blacks captain Todd Blackadder revealed this week that George Gregan, him of the famous "four more years, boys" World Cup sledge, had plenty to say once Australia drew level.
"George Gregan, when they had just scored their third try before halftime, turned to me and said '24-all, Toddy, we're back'."
Blackadder added: "We trained at Manly during the week and Nathan Grey, the Waratahs midfielder, was watching us. He didn't think we could see him. We kicked everything away at training but on the night we ran everything - it seemed to pay off."
A Stirling Mortlock penalty after the break gave the Wallabies the lead for the first time, with the All Blacks responding through a try from Justin Marshall.
More penalties were traded and then Australia struck what looked like the killer blow - replacement hooker Jeremy Paul crossing in the corner with seven minutes to go to give his side a 35-34 lead before Jonah Lomu scored an incredible last-gasp try for the victory when tip-toeing down the left touchline.
Umaga, who played on the right wing that night, was asked this week if the match was the most memorable he had played in. "It was definitely one of the most exciting," he said. "The way we started, things just seemed to fall into place. We took the opportunities and for the first 20 minutes everybody thought it was going to be a rout and then all of a sudden for the next 20 minutes the Wallabies got into their groove and took their opportunities.
"We got the win in the end but we needed a try from the big guy to get us over the line."
The Wallabies' fightback mirrored that of France in the infamous World Cup semifinal defeat of a year earlier at Twickenham, however, both Blackadder and Umaga denied their thoughts went back to that afternoon.
"We had a new squad then and players had dealt with that and put that behind them. We were pretty determined not to let that happen to us again," Umaga said.
Blackadder said of his feelings at halftime: "It felt like the work we had put in and the effort they had to make to catch up to us would get to them in the end. We were confident we could do it."
All Blacks 39 (Tana Umaga, Pita Alatini, Christian Cullen, Justin Marshall, Jonah Lomu tries; Andrew Mehrtens 4 cons, 2 pens.)
Wallabies 35 (Stirling Mortlock 2, Chris Latham, Joe Roff, Jeremy Paul; Mortlock 2 cons, 2 pens). HT: 24-24.
Bledisloe thriller
All Blacks 39
Australia 35
Stadium Australia, Sydney
Saturday, July 15, 2000
- APNZ