Shot putter continues her domination as she writes her name into sporting history.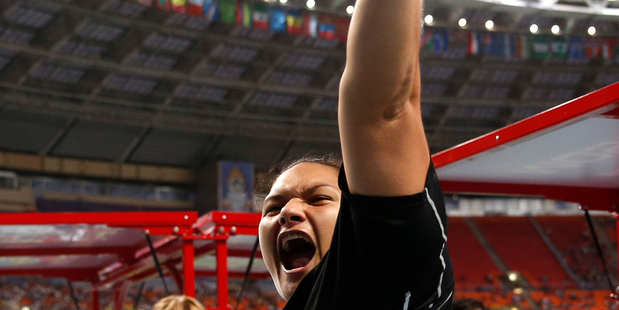 On nights like yesterday when Val Adams won her fourth World Championship title, it's easy to absorb the joy enveloping the victor and consider them invincible.
With a throw of 20.88m at Luzhniki Stadium, Adams dwarfed her field by 47cm to become the most prolific male or female shot putting world champion since the advent of the championship in 1983.
However, even after slapping the ice packs on to think objectively about her achievement, it seems a safe wager the 28-year-old still has at least one and maybe two more World Championships within. That time frame would also be enough to snatch a third Olympic gold, which means we'll be referring to Dame Val (if she's not a staunch republican) before her 33rd birthday.
Already Adams is one of New Zealand's athletics greats, someone worthy of mention in the same breath as fellow Olympic champions defined by one name: Lovelock, Williams, Halberg, Snell and Walker. She could still trump them by being remembered simply as "Val".
Hopefully, the International Association of Athletics Federations is aware of the gift Adams brings to their sport. Her charisma is backed by an ability to speak fluent French, too. What more could they want from an ambassador?
Few athletes at the championships, Usain Bolt aside, have warmed the Russian crowd like Adams. Her medal ceremony where she bear-hugged the suited chap presenting her medal, turning sartorial elegance into dishevelment, was a moment of candour anyone could relate to.
Adams even came prepared with messages written in black vivid on the palms of her hands. The right had 70th birthday wishes for her beloved coach Jean-Pierre Egger; the left said "Thank you, Russia". It was a poignant touch as she stood at the top of the dais and listened to the national anthem, an honour denied at the London Olympics last year when Belarussian Nadzeya Ostapchuk won but was subsequently disqualified for a positive drugs test. Today marks a year since Adams became a double Olympic champion.
She is a clean face in a traditionally dirty discipline and seems on a solitary crusade to tidy things up.
"Sport is what we do but unfortunately drugs play a big part in it," she said. "[This] shows kids out there that we can do it clean. You've just got to work hard." Yet Adams has to settle for just the 23rd-longest outdoor throw of all-time.
Nineteen of the 22 superior personal bests came between 1973-1990, when the use of banned drugs was rife. The three other marks were set by athletes who, before or since, tested positive for banned substances. The last was Ostapchuk's 21.58m in July 2012. The IAAF governing body has not expunged any of these efforts from their "best-of" list. Perhaps it's time they did Adams a favour by declaring any effort by identified dopers - past, present or future - as void, at least for the record books. Adams would shoot up the table, if you'll excuse the pun.
Had the IAAF seen the Pacific Showcase Market at Auckland's Cloud earlier in the year - where Adams threw at an exhibition event - they might think differently about getting her to front marketing campaigns. Crowd control was required to monitor those - many of whom were children - clambering to see her throw.
The "Team Val" structure keeps working. Coach Jean-Pierre Egger and physiotherapist Louise Johnson sat eight rows directly behind Adams in the stands during her latest triumph. Of Egger, she noted: "He's like a father to me. I love the man" and, when she was competing, "there was some sort of telepathic feeling between us".
•New Zealand runner Zane Robertson has qualified for the last spot in the men's 5000m final. The Ethiopia-based athlete will now line up against track greats such as Brit Mo Farah and American Bernard Lagat at 4.45am on Saturday (New Zealand time).
The 23-year-old posted a time of 13m 27.89s in the first heat to finish ninth. The top five from each heat, plus the five next fastest runners qualified for the final. Only six athletes ran quicker times in the second heat.
Robertson twin brother Jake raced the second heat but finished out of the reckoning in 14m 09.50s.
Adams' honours
Olympic Games
2008, Beijing, gold, 20.56m
2012, London, gold, 20.70m
World championships
2005, Helsinki, bronze, 19.62m
2007, Osaka, gold, 20.54m
2009, Berlin, gold, 20.44m
2011, Daegu, gold, 21.24m
Commonwealth Games
2002, Manchester, silver, 17.45m
2006, Melbourne, gold, 19.66m
2010, Delhi, gold, 20.47m
Best throws by year (since first world championship)
2007, Osaka, 20.54m
2008, Beijing, 20.56m
2009, Thessaloniki, 21.07m
2010, Split, 20.86m
2011, Daegu, 21.24m
2012, Lucerne, 21.11m
2013, London, 20.90m