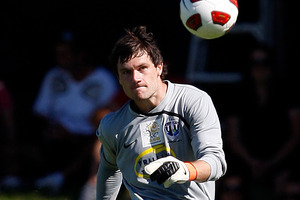 Goalkeeper Jacob Spoonley is leaving Auckland City to link with Team Wellington for this summer's ASB Premiership in a bid to secure a spot in the All Whites.
Spoonley had been the long-time No 1 for City but was benched last season in place of Tamati Williams with little explanation.
It began a frustrating period for Spoonley where he was called up to the national side for New Zealand's final Oceania World Cup qualifiers in March following an injury to Glen Moss, despite not being first choice at his club.
Moving to Wellington will give Spoonley the opportunity to get regular game time in the national league and it's understood the two-cap All White will train with the Phoenix on a regular basis.
Wellington isn't a foreign place to the 26-year-old, who spent a year with the Phoenix during their inaugural season in 2007-2008, although he never made an appearance in the A-League.
His debut for the Phoenix eventually came last season when he was loaned out from Auckland to play for the Phoenix in round two of the A-League when a host of All Whites were on international duty.
Spoonley helped the Phoenix earn a respectable 1-1 draw on the road against Melbourne Heart and was named in the league's team of the week.
He falls into an interesting spot at international level following the retirement of Mark Paston, which means two of the three goalkeepers from the All Whites' 2010 World Cup squad are no longer playing. James Bannatyne, who was third-string in 2010, retired after the tournament.
Spoonley played in New Zealand's dead rubber 2-0 win over the Solomon Islands in Honiara on March 26 after sitting on the bench behind Paston in the 2-1 win over New Caledonia in Dunedin a few days earlier, which guaranteed the All Whites a spot in November's intercontinental playoff.
National coach Ricki Herbert will select two goalkeepers for the home and away playoff while three will go to Brazil next year for the World Cup if New Zealand qualify. Moss is New Zealand's undisputed No 1 custodian.
Jake Gleeson and Michael O'Keeffe, both 23, have been summoned to the national squad in the past two years, with Gleeson making six appearances, while O'Keeffe is yet to debut.
Spoonley has won O-League crowns, national league titles and the Chatham Cup in a promising domestic career and goalkeepers don't tend to mature until their mid-20s.
He believes he has a lot to offer Herbert.
"I think I can provide a bit of experience from being round the traps for a while in terms of domestic football and I've been in the All Whites environment,'' Spoonley said.
"Hopefully these things will play in to my favour when it comes to decisions being made but I'd love to be part of the environment and I'll really push to show that I can step up and be a backup to Mossy, if not then I'd happily take the No 3 spot.''
One downside to Spoonley's departure from Auckland means he won't go to December's Club World Cup in Morocco but he said he left the club on good terms.
- APNZ