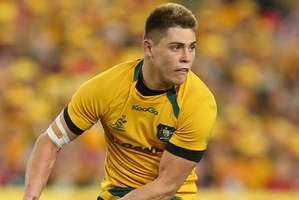 Controversial star James O'Connor says it's easy for him to buy into the Wallabies culture set by new coach Ewen McKenzie and he's changing to ensure he's best known for what he does on the field.
The gifted utility back incurred some disciplinary blemishes and unwanted media headlines under former coach Robbie Deans, most recently being spotted at a burger bar at 4am in the week of the second test against the British and Irish Lions.
"I don't play rugby to be talked about off the field," said O'Connor yesterday as he waits to learn if he'll be selected by McKenzie for Saturday's Bledisloe Cup opener against the All Blacks in Sydney.
"I'm playing rugby because I love it and that's what I want to be doing, playing for my country.
"At the moment I'm doing the hard yards and I'm trying to get involved and earn myself into the team."
McKenzie spoke to the players after they assembled last week about what he expects in terms of standards of behaviour.
"It's not hard to do; it's just putting the team first," said O'Connor of McKenzie's requirements. "I can't express everything, but it's something I'm pretty excited about. It's something I know I can be part of."
O'Connor revealed he was already making changes to his own approach as well as embracing the new team culture.
"There's definitely things that I already have changed and am in the process of doing - personal things," O'Connor said.
O'Connor was excited about McKenzie's vision of the way he wants Australia to play.
"We spoke about the game plan and it's got a lot of boys excited, especially being a back," O'Connor said. "Just the scope. There's a lot of landscape in the game plan to express yourself."
Out of contract after the Melbourne Rebels declined to offer a new deal, O'Connor said he was purely focusing on the Bledisloe Cup matches over the next two weekends.
- AAP