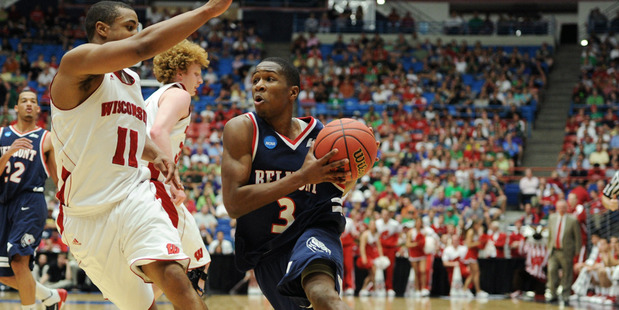 The Breakers have signed former Belmont University point guard Kerron Johnson as the replacement for Cedric Jackson.
Johnson, 22, will be unveiled as the club's second import and final piece of the fulltime playing jigsaw by head coach Dean Vickerman today, with only the remaining development player contracts to be confirmed ahead of the 2013-14 season.
Johnson comes highly recommended through the Breakers scouting system and with a ringing endorsement from long time Belmont Head Coach Rick Byrd.
"Kerron was identified by our USA scout Jonathan Givony very early in the recruitment process. Our selection committee then selected Kerron as the number one candidate," Vickerman said.
"At the Breakers all new players have to possess a high talent level but more importantly have to fit the clubs value system - we believe Kerron possess the required qualities to be a successful Breaker."
Johnson enjoyed an extremely successful college career at Belmont - where he won his conference tournament in 2011, 2012 and 2013 advancing Belmont to the NCAA Tournament all three years.
In 2012 and 2013 Kerron was named to the All Conference 1st Team and won All Conference Tournament MVP ahead of fellow Belmont guard Ian Clarke (NBA Summer League MVP) and Isaiah Canaan who both recently signed NBA contracts with the Utah Jazz and Houston Rockets receptively.
Johnson is looking forward to hooking up with his new club in late August.
"My agent told me about a great opportunity that would allow me to grow and start my career in a quality organisation. Once I researched the organisation I knew that this is where I wanted to start my career. The Breakers are an organisation dedicated to winning and also doing what's best for the development of their players.

"I don't know much about the league as a whole. What I do know about the Breakers is that they are a team with a great reputation, a loyal and growing fan base. They also enjoy doing things for their community which is something you can't find in every organisation. The club's fast pace also fits best with my skill set and I will also be a part of a veteran ball club with a good core."
Johnson says fans can expect an up tempo style of game when the ball is in his hands.
"The fast pace type of basketball that the fans are used to seeing fits my skill set very well. I am at my best when the pace it up and down and in the open court. I am a fearless competitor that plays with fire and emotion and I think the fans will see and feel that when they watch me play. I am dedicated to continuing the championship dynasty that has been started."
- APNZ