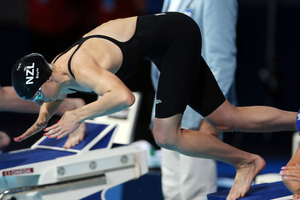 New Zealand swimmer Lauren Boyle has completed a remarkable two weeks of her career with another world class performance on the second day of the FINA World Cup in Berlin today.
The 25-year-old has finished second in the 400m freestyle, for the second day in a row behind Spanish star Belmonte Garcia who again broke a world record in the process.
Boyle took the challenge to the classy field, leading until the 350m mark before Garcia lifted with a superb final 50m to win in 3:54.52, breaking the previous world record by 33/100ths of a second.
The New Zealander was second in 3:55.31, just a blink of the eye slower than the national record she set in Eindhoven earlier in the week.
Her coach David Lyles said Boyle is drained both physically and mentally after two weeks of world class performances with three medals at the World Championships, two gold and two silver medals in five days in the World Cup and a bevy of records in the process.
"At this level it is about being consistent and what Lauren has managed to produce over the last 14 days is sheer consistency. We never mentioned world records coming into these competitions because she has improved so much that you do not know what to expect," Lyles said.
"It was so fast and such a big improvement (the 800m and 400m freestyle in Eindhoven) that to do it again a couple of days later is tremendous and a real credit to her."
Boyle will take a few days off before returning to New Zealand for a break and then reset her goals towards next year's Commonwealth Games in Glasgow.
Earlier fellow New Zealand teammate Shaun Burnett was 15th fastest in the 100m butterfly in 54.25.
Day 2 results, FINA World Cup, Berlin:
Women's 400m freestyle, heats: Lauren Boyle (NZL) 3:59.84, 1; Belmonte Garcia (ESP) 4:02.92, 2; Lotte Friis (DEN) 4:04.04, 3.
Final: Garcia 3:54.52, 1 (World Record); Boyle 3:55.31, 2; Melanie Costa (ESP) 3:58.31, 3.