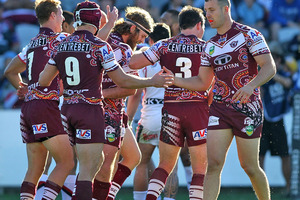 Sea Eagles 27
Warriors 12
The Warriors would have climbed into the top eight for the first time this season with a win over Manly today but the prospect of it seemed to make them suffer from altitude sickness.
They were off colour against a side that seems to be peaking at the right time and it makes their chances of making the top eight that much more difficult.
The defeat isn't terminal for their playoffs chances with four games remaining but consecutive losses has seem the Warriors lose a lot of the momentum of recent weeks and the pressure of the table can be suffocating.
At least the equation becomes a lot simpler. They simply need to win.
That task starts against Penrith at Mt Smart next Sunday - the team that gave them a 62-6 towelling earlier in the season which prompted the remarkable turnaround - and continues with games against Titans (A), Raiders (H) and Dragons (A). Three wins from four might see them sneak into the top eight but it would be a lot safer to bank four.
Today's defeat against Manly was not totally unexpected.
The Sea Eagles have now won six in a row and contain a good mix of players who won premierships in both 2008 and 2011 and talented youngsters.
They are a ruthless outfit and, while things didn't always click today - they completed only 69 per cent of their sets and made 16 errors - they were still too good for the Warriors. They attack with multiple runners and their linespeed in defence is stifling.
The Warriors' much-maligned right edge defence was largely resolute today but, instead, Manly found a lot of joy attacking the left side.
Winger David Williams scored a hat-trick and the Stewart brothers were rarely far from the action - Brett scored a double and Glenn chimed in with three try assists. A couple of the five tries were a little lucky, like the first one Williams scored after Glenn Stewart snaffled a ball slapped back by Kevin Locke with the Warriors deep on attack, but they deserved to win.
"We played a really good footy team today and we just have to accept that they executed better than we did in both attack and defence,'' Warriors coach Matt Elliott said.
"I'm not down in the mouth. I have a lot of belief in our footy team so I'm disappointed.
"The formula [for the top eight] is easy, really. It's not one I'm saying we are going to do but I'm pretty comfortable about this footy team because they are capable of doing it.''
They will need to play with the sort of belief, energy and commitment that saw them win seven from eight and beat some of the best teams in the competition.
They struggled to build any pressure against Manly and, although they were never really out of it, never really threatened. They trailed 10-6 at halftime, even though the home side were often dominant, and were still only eight down with 20 minutes remaining after Shaun Johnson scored.
But too often they looked to be playing within themselves or took the wrong option when patience was required. This was no better illustrated than when Johnson stabbed a kick ahead on the first tackle that caught everyone, including teammates, off guard.
Ngani Laumape scored from a superb set-piece option that saw Manu Vatuvei pop up on the opposite wing but it was a rare highlight.
They will need a few more in coming weeks if they are to climb any great heights.
- APNZ