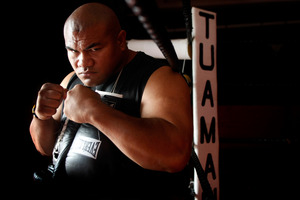 David Tua appreciates the irony. It's the best he has ever been prepared for a fight, he says while eyeing his injured calf.
His connections will decide this week whether the bout with giant Russian Alexander Ustinov will go ahead on August 31 or be postponed until next month. His calf - tender enough to have the heavyweight limping - went "snap" during training and his handlers are worried enough about it to resort to an MRI.
While his calf is the immediate problem, the state of David Tua's 40-year-old head is probably more germane to the outcome of this bout. Tua looks and sounds in excellent heart. Television makes him look bigger than he actually is. He is still possibly carrying a bit of extra weight round the middle; what he is wearing obstructs that view.
But his shoulders, chest, arms and legs look formidably strong. More to the point, so does what is in his head. Tua is relaxed, happy, smiling, at ease. Gone is the man who forged his own path for a while - a track which led him only to a draw and a loss and delivered him to the black hole of forced retirement.
Now reunited with legendary trainer Lee Parore, whose name he seems to mention every second sentence, Tua is convinced he is heading in the right direction.
One indication of that comes when Tua volunteers the name of Lennox Lewis in discussion of his upcoming fight with the 2.02m, 136kg Ustinov, a man who towers over the 1.78m Tua. Like Ustinov, Lewis was a big man (1.95m, about 115kg) and a masterly defensive fighter. Tua's 2000 world title fight with Lewis was a let-down for all concerned. Lewis boxed cleverly, kept Tua out of harm's way by defusing the Tuaman's famed left hook and won easily - making it look as if Tua hadn't fired a shot.
In times past, Tua might have avoided the subject. Now he easily segues from fighting Ustinov to Lewis: "I don't have any regrets as such - but I do have a wish list. I wish that I had remembered that he [Lewis] was one of the great undisputed heavyweight champs; that he had an educated jab and was a fine boxer. I wish I had not just relied on my hook and that I had capitalised more to the body.
"When I fight him [Ustinov], it will be tough. He's a big man. It's a great challenge but I have always fought bigger men. I have punched above my weight in and out of the ring. That's why I have been sparring with two big guys - to get me prepared for him."
As for the fight itself, Tua says: "I think it will be capitalising on whatever he does and adjusting to it. You can't just go in there and depend on strategy, important though it is to have a game plan and to stick to it. You also have to play what is in front of you. It can be just getting in there and having a go."
Big as he is, Ustinov offers the potential of a fast-track to a world title bout. His second-to-last fight, against tough Bulgarian Kubrat Pulev, saw Ustinov go down on one knee to end the bout - his first defeat in 28 fights. Many who saw it called it "quitting".
But Tua isn't having any of that: "I don't take things like that into account. That was then, this is now. That was one fight, this is another one. He could be in a totally different space to then; he will be. He has a good record. You know, they say you are only as good as your last fight. Well, I also say you are only as good as your next fight. He wants it bad too. I just focus on what's real."
If there is a catalyst for Tua success in this bout, it is Parore: "I have trained really, really, really hard. This preparation has been the hardest of my career to date. Lee Parore is no walk in the park."
Tua tells the story of Parore working him so hard one day that an exhausted Tua went into a trance-like state, having an almost out-of-body experience, seeing himself as a young man in Samoa, at the edge of a cliff.
"It had been a very tough day and we usually finished with a hard run. This day, it was 45-50 minutes long, up and down hills, with Lee leading the way - and he doesn't wait for you. I had to chase him. When we got back, I said, 'See you tomorrow'. He said: 'Where are you going?' I said: 'Home'. He said: 'We haven't finished yet."'
Tua said the final round of exercises were punishing, with five sets.
"When we got to the third set, I was gone," he said. "I hadn't just hit the wall; I'd hit something more than a wall. I closed my eyes and I could see myself as a young boy in Samoa, running round and going through a field until I came to the edge of a cliff. I was at the edge, where I could fall over or I could back off and do something about my situation.
"It was a cold and dark and empty space - and it said to me: 'Are you coming with me?' Then I open my eyes and Lee is standing there staring at me and he said: 'What are you doing?' ... and we got back into it."
The calf might be tender but the head seems sharp.