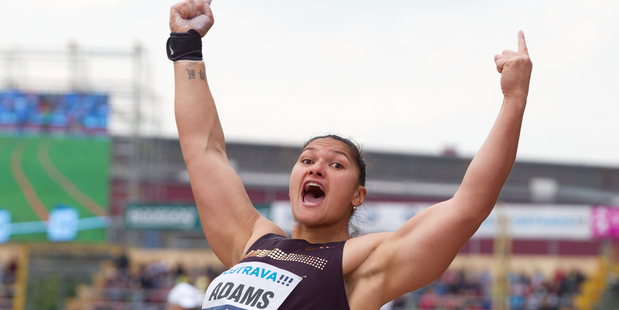 For shot putter Val Adams to catalogue 2013 under 'S' for success, it's understood she wants a personal best around 21.50m at the world championships in Moscow. Anything less risks being filed under 'D' for disappointment.
Presuming the 28-year-old qualifies for tomorrow's final (starting at 4.25am New Zealand time) she will begin her quest to become the first shot putter, male or female, to become a four-time world champion in the meet's 30-year history. What's more, Adams will have done it consecutively after first winning in 2007.
She's a clear favourite, having recorded the five farthest distances this season. Her 20.90m best, set in London on July 27, is 66cm further than nearest rival American Michelle Carter. However, the result was important for another reason. It was the first time Adams had competed at the London Olympic venue since standing in second spot on the medal dais, listening to the Belarusian anthem of doping cheat Nadzeya Ostapchuk. It was a chance to be cleansed of the stress of an event where she was originally left off the starting list due to human error.
The shame of shot put is that Adams' efforts still rank her with the also-rans of the sport. She is one of two female shot putters who have won back-to-back Olympic titles. The other was Soviet Tamara Press in 1960 and 1964. Yet Adams, with access to all the wonders of modern sports science, remains 23rd on the all-time list for distance.
Nineteen of the 22 superior personal bests came between 1973 and 1990 when drugs in the discipline were rife. The three other marks were set by athletes who, before or since, tested positive for banned substances. The last was Ostapchuk's 21.58m in July 2012. The IAAF has not expunged any of these efforts from the record books.
Adams set her 21.24m personal best at the 2011 world championships. The 22.63m world record, set by Soviet Natalya Lisovskaya in 1987, remains 1.39m beyond her reach. The Olympic record of 22.41m, set by East German Ilona Briesenick in July 1980, is also off her radar.
Significantly both marks were set at the Luzhniki Stadium in Moscow, where Adams competes this week. And it must hurt to know, at least at this point, she is unlikely to touch the world record, despite dominating the sport for six years.
Regardless of where Adams sits on the all-time list, she has created her own legacy, particularly at home. Before her, New Zealand had just one world champion since the events started in 1983: Beatrice Faumuina's 1997 discus title. By Tuesday morning, the country could add a fifth.