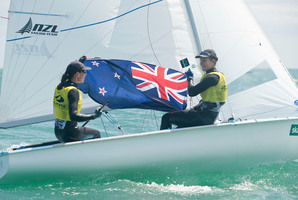 Jo Aleh and Polly Powrie have finally secured gold at the 470 Sailing World Championships.
The Olympic gold medallists have secured the title in France in their fifth year of trying, after sailing to victory in the medal race.
It's given them a comfortable overall victory over Austria.
Aleh says it's the one regatta they've been desperate to win.
"We were sort of talking on the way in how we were almost more excited to win the worlds, I guess just because we've tried four times.
"This is our fifth world champs, and we've stuffed up a few in the past.''
The Olympic gold medallist sailors have completed their post-London goal, Aleh saying they've ticked off their main aim.
"After the Olympics we sort of said that we've never won a world champs so we still had unfinished business.
"I guess we probably won this a bit earlier in the four years than we thought we would.''
New Zealand's men's pair of Paul Snow-Hansen and Dan Willcox have finished seventh.