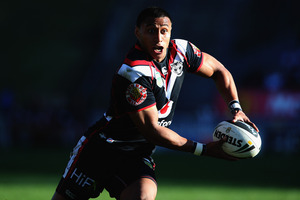 Dominique Peyroux has proved his value as the closer for the Warriors, steadying things in the final minutes with the result on the line, but he's staking a claim for an expanded role and his coach seems ready to give it to him.
Peyroux has played in seven games this season and experienced defeat only once - last weekend's 18-14 loss to the Sharks. He has usually come on for the closing minutes to shore up the problematical right-side defence. It has seen him average only 21 minutes a game, but against the Rabbitohs, he sat on the bench for the entire 80 minutes.
It's been hard, but he's never complained. It doesn't mean he doesn't wish for more.
"To be honest, I want more minutes," he said. "To be starting would be awesome but I have to stick to my role, which is coming off the bench, and adapting to whatever position I play and giving 100 per cent into that 15 or 20-minute stint.
"You can't really do much in that amount of time but you just have to stick with it and hopefully Matty has got a plan for me in these last five games."
Warriors coach Matt Elliott seems to be warming to the idea and it might even see a change in today's crucial game against Manly.
"We have to expand that role and that's the challenge for us at the moment," Elliott said. "I probably have to take a little bit more of a risk occasionally and give one of our backrowers more rest, which increases their effectiveness.
"When you play guys 80 minutes every week, what you find is they will keep doing it but the quality of their work diminishes because the NRL is so tough. I need to show a bit more courage and get Dom out there a little bit earlier at some stage."
Peyroux has always battled to make it. He acknowledges he wasn't the best player as a junior and rarely made representative sides.
He had to work hard to keep his dream of playing in the NRL - a goal he set as a 12-year-old - and had to trial to get picked up by the Roosters when many of his friends were recruited directly.
He played under-20s at Bondi Junction before moving to the Gold Coast before eventually making his NRL debut in 2011. Even then, he played only 16 games over two seasons for the Titans before being picked up by the Warriors.
In many ways, his current situation is just a continuation of the battle he's always faced.
"It comes down to your will, your dreams and what you want to do with your life," he said. "I wasn't one of the most talented boys out there but I worked hard. It was what I wanted. I'm 24 now and hopefully there are more opportunities out there."
He has plenty when it comes to international football. Born in Auckland to parents with Samoan, Cook Islands and Solomon Islands heritage, he has multiple options and it's little wonder he's often referred to as a fruit salad.
He feels more Samoan than anything but played for the Cook Islands in 2009 and plans to stay loyal and play for them at this year's World Cup.
His long-term ambition, however, is a little further afield.
"Hopefully I will play for France," he said. "I don't really see any Islanders playing for them and I would like to be one of the first."
For now, his goals are a little more immediate - helping the Warriors beat Manly today and getting more minutes on the park.