Northland has a chance of winning the elusive Ranfurly Shield again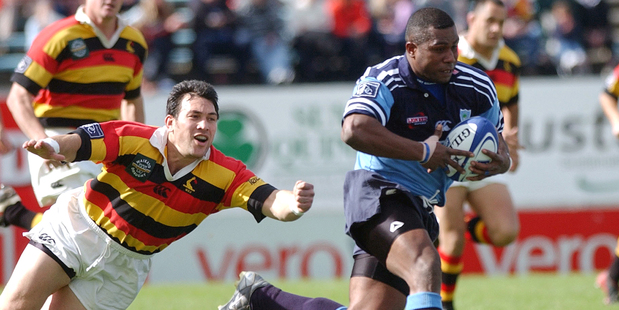 Goodness only knows what Northland will produce this year.
They could be the team of the tournament - an incredible mix of the outrageous and eclectic with Rene Ranger and Rupeni Caucaunibuca in their ranks.
They won't be predictable certainly. There's not a chance of that with one of the form midfielders in world rugby this year and arguably the best wing of the past decade working in tandem.
Ranger and Rupeni - that's a serious combination; those two alone make Northland the most fascinating team in the ITM Cup.
Those two alone will ensure that the Taniwha begin their campaign this Saturday against Waikato with a plausible chance of snaring the Ranfurly Shield for the first time since 1979.
Northland won't necessarily need much possession to win games this year. They will be able to live on scraps, as Ranger won't need much ball at all at this level to cause excessive damage.
At this level, he'll be deadly, given he's more than a handful at Super Rugby.
As for Rupeni, no one really can be sure but the indications to date are promising: "Rupes has done a few things in training recently that have actually caused the other boys to stop because they just can't believe what they are seeing," says Northland coach Derren Witcombe.
"We see Rene as a centre for us and Rupeni will be on the wing. He's in pretty good shape. He was 119kg when he got off the plane [from Fiji] but he's probably about 110kg at the moment.
"He fluctuates - he's been down to about 107kg but he's trained well and looks good. And the thing about Rupes is you never really know. He often plays better than he trains."
It was always a risk for Northland to sign Rupeni, one of the most talented but troubled characters in the world game. Quite what they would get when they made the decision a few months back, they could never be sure.
In his prime, Rupeni was arguably the best wing in the world. He was probably more than that; in 2003 and 2004, when he played for the Blues, he was probably the best wing in world rugby since Jonah Lomu, with several men who have played with both even going so far as to say they felt the Fijian was the more spectacular. But his window was brief. There were two brilliant seasons in Auckland and a World Cup experience where he scored two of the tournament's best tries.
The instant he left the Blues, his troubles began. The weight piled on; the injuries mounted; his life became one bizarre saga after another with several bust-ups with his French club Agen; a failed drugs test and multiple strange episodes of him going missing.
Reliability is not Rupeni's bag but he's washed up in the Far North - where it all began for him professionally more than 10 years ago - virtually penniless.
It's all gone and, at 33, this is his last chance. If he can shine for Northland, then there might be one last contract somewhere else; maybe with a Super Rugby side in New Zealand, although that would be doubtful given his age and past history. More likely Japan or one more whirl in France.
"We actually played our first game for Northland together," says Witcombe, who also played with Rupeni at the Blues. "He was the best player in the world in my view. I'm not sure that he's still capable of playing as he did back then, but he's still capable of doing special things.
"We have given him an opportunity and he's very excited by that. It is up to him now. If he wants to go on to bigger and better things, then he's going to have to play well for Northland."
The presence of so much talent in the backline has led to Northland setting themselves the goal of reaching the final of the ITM Championship. It's definitely an achievable target.
In Bryce Williams, Bronson Murray and Jake Paringatai, they have three seasoned professionals with the nous and experience to lead a young pack.