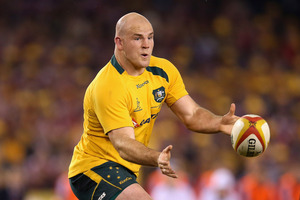 For me, the Quade Cooper question - do you play him against the All Blacks? - goes wider than Cooper. It's a question of mindset, of attitude, with the Australian side.
I've been in Sydney this week, at some pre-Bledisloe Cup events, and have spoken to a lot of former Wallabies and rugby mates there. We got talking about what is wrong with the current Wallaby side.
I told them that, as far as I was concerned, Ewen McKenzie was already 0-1 down since he was named Wallaby coach. I was referring to the Reds' play-off match, won 38-9 by the Crusaders.
All the Reds' so-called best attacking players seemed to be fighting over who stood deepest at fullback, I told them.
McKenzie's name came up later too. We were discussing why the Wallabies have had so few good front-rowers since my day. I asked them who was their best hooker, other than Phil Kearns.
Stephen Moore, they said. Fair enough, going on the way he has played for the last year or two. The best prop since my day? McKenzie, they said. I just laughed. We had half a dozen better than him at home, I said.
All right, I was rarking them up a bit. But the point remains - if McKenzie is the best prop they've had in the centuries since I was an All Black, there's part of the problem right there.
They haven't had the same issues at lock; Australia has had some world class second rowers. I reckon it's because guys of 1.98m up don't do too well in league.
Look at leaguies like Paul Gallen and Dave Taylor - big, hard, mobile men who you'd think might do well in rugby. But the code hoppers, Brad Thorn aside, always seem to be backs, don't they?
The Aussies also have bloody good loose forwards always - and one of those is a good example of the attitudinal shift I am talking about: Scott Higginbotham.
Look what happened when he left the Reds to go to the Melbourne Rebels. He grew another leg. He embraced the shift, took responsibility as a senior player and made things happen at that franchise. If the Wallabies had him against the Lions, it would have helped them a great deal.
Yet look at James O'Connor, Kurtley Beale and others. They leave you with the deep suspicion that the only reason they changed franchises was money. Cooper was part of the so-called 'Three Amigos' and none of those guys give you confidence they are part of a team.
It's not a new problem. The Aussies told me that Eddie Jones, when he was coach, had similar (but lesser problems) with players like Matt Henjak and Matt Giteau. Puts Robbie Deans' problems with Cooper into context, doesn't it?
So does this quote from a Wallaby player: "You can make friends with a feral dog, even pat it, but it will still bite you on the arse." That's what happened to Deans with the Three Amigos; they went their own way, no matter what the leadership group said.
Mike Brewer, the former All Black flanker, has been doing some work with New South Wales rugby and told me the Waratahs' mindset was awful.
Under former coach Michael Foley, the work ethic was lousy and it's said he lost control a bit; the players called the shots. Brewer said some just were not prepared to put in the extra yards, on or off the field.
It's apparently coming right under new coach Michael Cheika but that's another illustration of the attitude the Australians have to shift. I have been complaining all year about Waratahs prop Benn Robinson and I see he was the notable exclusion from the Wallaby squad on Friday.
The All Blacks will know Cooper's weaknesses and will try to play to them. But they will also know that Cooper occasionally has a blinder. He hasn't looked like that for a while - his form in Christchurch against the Crusaders was ordinary; he doesn't seem to take the ball to the line any more and instead throws that pop pass, leaving them open to intercepts.
But that to me is secondary. The Wallabies, and McKenzie, have far bigger problems against the All Blacks.