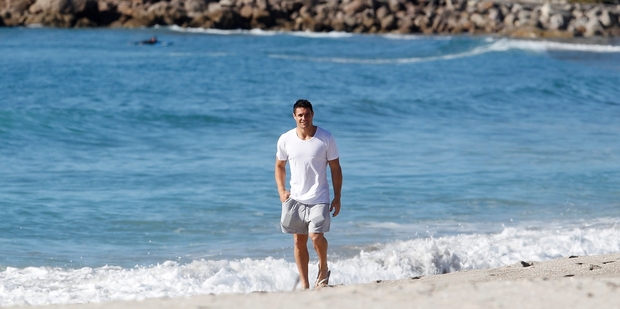 Richie McCaw is a lot of things - world-class openside flanker, captain of the All Blacks and a marketable commodity - but he can add a new string to his bow: careers adviser.
With one of the worst-kept secrets in rugby being confirmed yesterday that Daniel Carter will take a sabbatical or "extended break" from the game next year, the champion No 10 revealed he sought advice from McCaw on the matter.
McCaw took an extended break of his own for the first half of this year and has only recently worked his way back to top-level rugby.
Carter has been struck down by a variety of leg ailments in recent seasons and said the need for a break was important to keep his mind and body on track for the 2015 World Cup.
He took inspiration from how well it has worked so far for McCaw.
"I've spoken to him and just seeing the way he's really refreshed; and mentally he's excited as he's ever been because he's taken a step back away from it," Carter said.
"So from my perspective his break has been a success and there's going to be a lot of similarities between his break and my break in terms of just getting away and freshening up."
That means Carter is unlikely to be spotted in the blue and white hoops of his boyhood club, Southbridge, after some reports hinted he might play club rugby in Christchurch next year.
"There's some speculation about playing a full club season. I'm not sure where that came from. Probably the old man putting something out there, I'm sure he'd love that," Carter laughed.
"But, nah, I'm not going to play any rugby in that six months, so when I return to play I'll decide what happens closer to the time."
The 31-year-old remains hot property on the international market and acknowledged he had playing options abroad, similar to his turn for Perpignan in France in 2008-2009, but in the end he decided time in New Zealand to get his body in top nick was the best choice to prolong his career.
"I looked all over, so Europe and Japan, just explored all the options, really, but not in too much depth. I sort of realised it was more beneficial for me to actually take a step away from rugby and not try and play somewhere else."
Carter made his All Blacks debut in 2003 and has been a regular on the professional rugby circuit since his maiden appearance for Canterbury in 2002. He's racked up 95 caps and a record 1399 points for the All Blacks, 123 appearances for the Crusaders with 1547 points and has pulled on the Canterbury strip more than 20 times during a career that is sure to have a few more highlights yet.
Carter's break will follow the All Blacks' European tour in November. He will miss most of the 2014 Super Rugby season as well as the All Blacks' three-test England series next June.
- APNZ