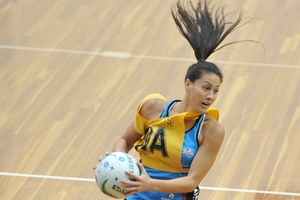 Twelve months ago Courtney Tairi and Katarina Cooper were taking their first painful steps along the long road to rehabilitation after suffering serious knee injuries.
Yesterday they took their first steps towards making their international debut after being called up to the Silver Ferns squad for the first time.
The midcourt pair were the two newcomers to the 15-strong squad named yesterday, with selectors opting to leave a couple of spaces open for defender Anna Harrison, who is aiming to return to action next season following the birth of her first child, and injured shooter Bailey Mes.
The inclusion of the unheralded Cooper, and Tairi, who had a mixed season for the Steel this year after returning from injury, continues the trend of selectors taking a punt on raw talent, following the shock selection of Mes last season.
Former NSW Swifts midcourter Tairi, who was born in Australia but is eligible to represent the Silver Ferns through her New Zealand parentage, made the decision to defect to the Southern Steel in 2012 as she chased her dream of playing for the Ferns.
With New Zealand's midcourt ranks severely depleted last season following the retirement of Temepara George, and Liana Leota on maternity leave, Tairi was tipped early on for an immediate call-up. But her international ambitions had to be put on hold after she ruptured her anterior cruciate ligament midway through the transtasman league season and was forced to undergo her second knee reconstruction in five years.
"My injury was pretty devastating, it was really tough to go through that again, especially after I made the decision to come across here and give the Ferns a go," said Tairi.
While she battled back from injury it appeared Tairi's window of opportunity to establish her place in the Ferns squad had closed, with the midcourt stocks going from bare to overflowing this season after incumbent Camilla Lees quickly made herself indispensable, while the return of Leota (who later withdrew from this week's trials for family reasons) and strong ANZ Championship performances from Grace Rasmussen and Anna Thompson meant competition for midcourt spots was fierce.
Tairi admitted she had a slower start to the season than she would have liked after taking time to get her confidence back in her knee, but she tried to remain positive and never gave up hope she could be selected.
Cooper can sympathise with Tairi's struggles to regain her confid-ence. The 27-year-old said the biggest challenge for her as she returned to the court was overcoming the nagging worry in the back of her mind that she would re-injure herself.
"Once you come through rehabilitation and all that you're physically fine - it's basically a brand new knee - but it's the mental stuff that is the hardest to overcome."
Cooper, who was tipped for netballing stardom as a teenager before disappearing from the landscape for eight years after taking time out for the birth of her two children, was the biggest surprise in the squad.
The former under-21 star made her ANZ Championship debut for the Pulse last year, but her remarkable comeback story ended with a ruptured ACL in the second-to-last round of the season. Cooper was not offered a transtasman league contract this year as she battled back from injury, but was thrown a lifeline by the national selectors when she was invited to Silver Ferns trials this week.
Silver Ferns coach Waimarama Taumaunu said the selectors have included Cooper in the group as a "project" as she had a "flair and creativity that cannot be coached".
"I've known for many years about the level of talent she had, I think the thing that surprised was how well she stood up in the company she was in and although she has a lot of work to do physically, she coped well with the workload during the week," said Taumaunu.
"While we have taken a bit of a punt on her, if we work hard with her on her rehabilitation and her conditioning, she can potentially offer this group something new and something very exciting."
The other change to the squad is the return of veteran midcourter Joline Henry, who missed last year's international season through pregnancy. Despite battling a few niggling injuries, Henry impressed during the trials and is on track to make her international return against Australia next month.
Taumaunu said she is hopeful of using her full squad at some stage during the international season, which includes a three-test series against Malawi following the Constellation Cup, beginning in Invercargill next month.
She is also planning to take her entire squad "with the possibility of a few extras" to England in January.
The test line-up to face Australia will be named on August 26 following a week-long squad camp.