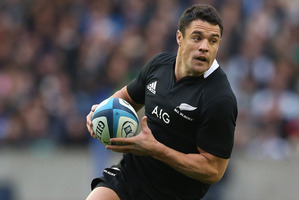 Daniel Carter admitted he looked at the options of playing in Europe and Japan before deciding to have a rugby-free sabbatical.
The All Blacks and Crusaders first five-eighth today confirmed details of his extended break from the game, which sees the 31-year-old, 95-test veteran take a six-month break from the game following the All Blacks' European Tour in November.
Carter, in his 11th season of professional rugby, will miss the majority of the 2014 Super Rugby season with the Crusaders as well as the All Blacks' three-test series against England in June.
Carter said the extended break would allow him the chance to refresh and recover after more than a decade of top-level rugby but he admitted he explored the options of playing overseas.
Carter played five matches for French side Perpignan in the 2008-09 season and said he looked at a return to Europe or a season in Japan.
"I looked all over, so Europe and Japan, just explored all the options, really, but not in too much depth," he said.
"I sort of realised it was more beneficial for me to actually take a step away from rugby and not try to play somewhere else.''
Carter remains determined to play a critical role for the All Blacks at the next World Cup, but he'll turn 32 next March and is conscious that he's been troubled by niggling injuries since he ripped his groin in the pool rounds of the 2011 World Cup.
In May he expressed his support for the creation of a global season - arguing that players need longer than six weeks to prepare for the 10-month onslaught of non-stop rugby.
"I love playing rugby and I'm fully committed to the Crusaders and the All Blacks. But when you play the game fulltime at this level it does take a toll on your body. I've had a few injury niggles over recent years, so I'm keen to ensure I do everything I can to recover fully from those and prolong my career.
"Ultimately, I want to play in the next Rugby World Cup in 2015. To do that, it's important that I put myself in the best possible position, both physically and mentally," said Carter.
He also became a father for the first time recently following the birth of son Marco.
"I guess that's a bit of a bonus as well, having a young family, it'll be good to spend some time with them. But it's not the main reason I'm doing it. It's more to really work on looking after my body and also just getting away, mentally, and having a break as well.''
All Blacks skipper Richie McCaw recently ended a six-month break from the game before joining the Crusaders for the latter stages of the Super 15 season.
Fellow All Black Conrad Smith confirmed in June he will be taking a five-month break at the end of this year. He is another who wants to make the 2015 World Cup and feels he won't get there without the time off.
As if news of Carter's break wasn't hard enough to take for Crusaders fans, Carter's Southbridge club will also be disappointed to hear the All Black won't be starting for them next season, despite rumours suggesting that possibility.
"There's some speculation about playing a full club season. I'm not sure where that came from. Probably the old man putting something out there, I'm sure he'd love that," Carter said.
"But, nah, I'm not going to play any rugby in that six months, so when I return to play I'll decide what happens closer to the time.''