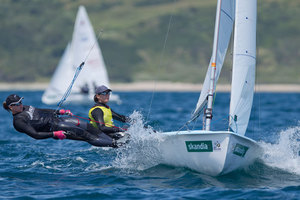 Jo Aleh and Olivia Powrie cast aside the disappointment of yesterday's clerical error to storm back into contention at the 470 world championships in La Rochelle, France, overnight (NZT).
The Olympic champions were handed a five-point penalty yesterday for failing to sign off in the prescribed time at the end of the day and it saw them slip to sixth overall. But a collection of good results overnight - a first and two seconds - saw them reclaim the lead in the regatta with one day of finals racing remaining before the double points medal race for the top eight crews.
Aleh and Powrie were helped by the fact other crews struggled in the 10-15 knots winds of La Rochelle and they now hold an eight-point buffer over Camille Lecointre and Mathilde Geron of France, who have held top spot since Tuesday. Tina Mrak and Veronika Macarol of Slovenia round out the top three, six points adrift of the French pair.
"We started out well with a decent start in the first race, rounding the top mark in the first pack, then chipped away at the leaders to take the lead just before the last mark to the finish and win the race,'' Aleh said.
"The next one was a little trickier. We didn't have the greatest start, but we got a bit of space and got the boat going nice and quick.
"The last race of the day was definitely the most difficult. We had a great start, but got a bit out of phase on the first leg of the race to round the top mark in the middle of the fleet. We then worked our arses off to move up into the top five by the last top mark and one more good downwind leg and a great final reach put us into second place at the finish once again.
"Overall a one, two, two and no extra silly points for doing something stupid, so a bit of an improvement on yesterday.''
It was a different story for the top New Zealand men's crew of Paul Snow-Hansen and Dan Willcox who dropped from second overall at the start of the day to 11th and they have a battle on their hands to climb into the top eight after tonight's racing to qualify for the medal race.
They had a 17th, 26th and an OCS (over the line at the start and failed to return) to slip down the field.
Francisco Lardies and Luke Stevenson are in 53rd and Richard Power and John Power 98th in the 114-boat competition.
Two races are scheduled tonight (NZT) with the medal race on Saturday night (NZT).
New Zealand results from the 470 world championships sailed off La Rochelle, France, overnight (NZT):Women (52 boats)
1st - Jo Aleh and Polly Powrie (4, 6, 18, 1, 2, 2)
Men (114 boats)
11th - Paul Snow-Hansen and Dan Willcox (3, 15, 1, 17, 26, OCS)
53rd - Francisco Lardies and Luke Stevenson (18, 11, 16, 20, 16, 15)
98th - Richard Power and John Power (16, 19, 18, 19, 27, 25)
- APNZ